Trespass Music is pleased to release to radio Gordon Thomas Ward's new album "Whispers From The Woods" on September 1, 2022. This album follows his previous critically acclaimed double album "Eiderdown."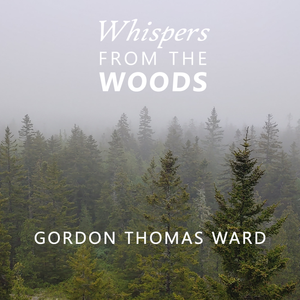 MAINE | FOLK | ROCK 
Releasing September 1, 2022 
DROPBOX CLICK HERE 
AIRPLAY DIRECT CLICK HERE 
ONE SHEET CLICK HERE 
ABOUT THE ALBUM
Gordon Thomas Ward, an extraordinary and accomplished songwriter has created his fourth album, which is poised to surpass even his previous, charting albums with its masterful blend of artistry and insight. Composed entirely at his cottage on the coast of Maine and recorded with some of the most notable musicians in the business, Gordon's adeptness as a storyteller, insightful lyrics, and variety of styles are on full display and will take listeners on a journey filled with honesty, imagery, and emotion that they'll want to repeat time and time again.
"Gordon Thomas Ward exhibits his mastery of eloquent lyrics and musical storytelling. The songs emanate exquisite colors, captivating rhythms, and Ward's enchanting voice." ~ Blogcritics 
"His musical DNA seamlessly incorporates modern folk rock, Americana, country, and adult alternative weaving together for a spectacular effect. Ward shows he's one of the best singer-songwriters working in the Americana/indie scene today." ~ No Depression
1. Whispers from the Woods [11:17] ISRC - ushm22206888 
Unfolding into several sections, the title song "Whispers from the Woods" questions where we are as a species and where we're headed with an eye on the environment. 
2. The Gift [6:24] ISRC - ushm22206889 Those moments when we lost track of time due to our immersion in childhood taught us what it was like to be suspended in time. Eventually, we will all return there. 
3. Shine [6:22]  ISRC - ushm22206890 This song implores the listener to live life to the fullest and pay attention to one's inner voice. 
4. Common Ground [6:44] ISRC - ushm22206891 I wanted to pay tribute to the songs and artists that we know from our formative years and the ways in which they shaped us. 
5. Brilliant [5:26] ISRC - ushm22206892 
The message here illuminates the intrinsic value that each person has.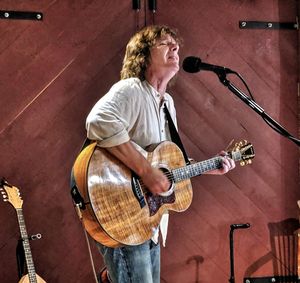 6. There Was a Time [6:45] ISRC - ushm22206893 This is a universal and nostalgic review of the passage of time and its resolution. 
7. Fly [5:13] ISRC - ushm22206894 We all have immigration in our roots. Let's not forget that when looking toward the future. 
8. Push [6:50] ISRC - ushm22206895 This song deals with the tragedy of opioid addiction and the belief that those afflicted are never truly alone. 
9. Hymn to Love [2:01] ISRC -ushm22206896 
Here we have a love letter to those we'll cherish forever. 
10. The 2nd Floor [6:11]  ISRC - ushm22206897 
This is a quirky view of the way heaven and earth merge in some minds. 
 11. Secondhand [5:32] ISRC - ushm22206898 Some journeys involve living in the past and the comfort some people gain from its grip on their lives. 
12. Evening Bell [6:36] ISRC - ushm22206899 Let's give a nod to the parts of our lives that have faded and the importance of not taking anything or anyone for granted.
CREDITS
Gordon Thomas Ward: lead and harmony vocals, spoken word, acoustic 6-string, 8-string baritone, and nylon string guitar, electric guitar, bowed psaltery, clarinet, percussion, effects 
Jud Caswell: backing guitars on "Hymn to Love" and "The 2nd Floor," additional harmony vocal on "Push," whispers on "Whispers from the Woods," mandolin, banjo, penny whistle, percussion, effects 
Kevin Barry: lap steel guitars and electric guitar on "Push" 
Ronnie Bouffard: drums 
Robby Coffin: electric guitar on "Shine" and "Whispers from the Woods" 
Scott Elliott: electric bass 
Abbie Gardner: Dobro resonator guitar on "Fly" and "The Gift," additional harmony vocals on "Push" and "The 2nd Floor" 
William J. Hall: additional harmony vocal on "Brilliant," "Common Ground," and "Secondhand" 
Andy Happel: violin and cello on "Brilliant" 
Ben Hunsberger: piano 
April Reed-Cox: cello on "Evening Bell" 
Kaleb Storm: electric guitar on "Common Ground" and "Secondhand" 
© ℗ 2022 Gordon Thomas Ward (ASCAP). All rights reserved. 
All songs, music, and lyrics written by Gordon Thomas Ward. 
Recorded at Frog Hollow Studio, Topsham, ME. 
Engineered by Jud Caswell. 
Co-produced by Jud Caswell and Gordon Thomas Ward. 
Mastered by Alex McCullough at True East Mastering, Nashville, TN. 
Cover photography, design, and layout by Veronica Ward and Gordon Thomas Ward
ABOUT GORDON THOMAS WARD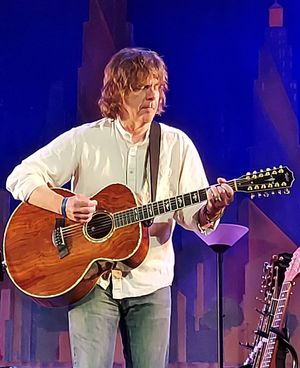 Dubbed "the total package" by his fans, GRAMMY-balloted, award-winning singer-songwriter and recording artist Gordon Thomas Ward tours as a solo performer with four charting #1 songs. He's charted in the Radio Guitar One Acoustic Top 30 and the Roots Music Report charts. Gordon's songs and records have also soared in the Folk Music Charts, the Euro Indie Music Chart, DRT Global Adult Contemporary Airplay Chart, DRT Global Top 150 Country Airplay Chart, and more! His song stylings have been influenced by the singer-songwriters of the late 1960s through the 1970s, yet Gordon's songs occupy a space all their own filled with honesty, emotion, and personal politics from time to time. 
   Gordon is, at heart, a storyteller who paints musical portraits that plumb the depths of our emotions and bring the past to life while pointing to a hope-filled future. His listeners travel mystical and historical roads, winding through lush, sonic landscapes. Employing his experience as a teacher, writer, paranormal investigator, storyteller, group facilitator, and radio host, it's no wonder that his fans often comment on Gordon's knack for establishing an endearing relationship with them through his extraordinary and captivating words and music, which fit into the contemporary folk rock, adult alternative, and Americana genres. Matheson's Entertainment Blog says his music "Will grab you by the heart and never let go." At the end of his performances, audiences leave inspired, and Vents Magazine calls his work, "In a word: liberating." 
   Utilizing a variety of instruments in his shows, including six-, eight-, and twelve-string guitars and an eight-string Walkabout dulcimer, results in a varied spectrum of tonal colors. His songs have led him to work with notable musicians such as Abbie Gardner, Jud Caswell, Eric Troyer and Mik Kaminski (Electric Light Orchestra, and The Orchestra), ​Kevin Barry (Jackson Browne, James Taylor), William J. Hall, Caroline Cotter, share the stage and billing with Natalie Merchant and Christine Lavin, and open for noted singer-songwriter Bill Staines. Gordon's first album Welcome to the Past was released in 2013. His celebrated, GRAMMY-balloted record Providence was released on August 30, 2018. Gordon followed that up with the release of his much-anticipated, critically acclaimed, double album titled Eiderdown on May 1, 2020, which has charted as the #1 folk record, both nationally and in Maine, and as the #3 alternative folk record in the nation. Eiderdown also spawned three #1 songs: "Dreams," "Long, Long Ago," and "Just for You." Gordon's next album Whispers from the Woods is due for release on September 1, 2022. 
   Gordon has written songs for documentary film, historical events and celebrations, and The United States World War One Centennial Commission. He is a voting member of the Recording Academy and, as the author of five books, is no stranger to television and radio, and has performed at many festivals and venues, including Musikfest for three years running. He's also been "Artist of the Week" on radio, received enthusiastic reviews by prominent music critics, and highlighted in media articles. As an artist interested in social issues, Gordon produced and performed in a Concert Across America to End Gun Violence in 2016 and 2018.
Thank Yous: 
Very special thanks to song sponsors Gretchen Bierschenk ("The Gift"), Howard and Elaine Dreskin ("Evening Bell"), Krystal and Wayne Groff ("There Was a Time"), Liz and Ray Mathewson ("Brilliant"), Pam Meyers ("Shine"), and Lynne Skaskiw (The 2nd Floor" and "Shine"). Thanks to all my fans who pledged toward this recording project and those of you who follow my music and performances. You make my music a reality. Jud, my brother in music, your studio and performance skills are off the charts, and it was an extraordinary pleasure to work with you on this record. You turn songs into magic! To all the musicians who contributed time and talents to this album, know that I am grateful for your artistry that brought these songs to life. Alex, thank you for your keen ear for mastering. Love and gratitude to my wife Veronica for her insane computer and layout skills on the cover, and to Veronica and our pup Aztec for obliging me on our photography hike through the whispering woods. 
Love, peace, and cheers! 
Gordon
SOCIALS
WEBSITE | FACEBOOK | SPOTIFY | SOUNDCLOUD