Trespass Music is pleased to release to radio worldwide Safe As Houses new CD "Lucky Lucky Deluxe" April 25th as well as tour Ontario in support of the album.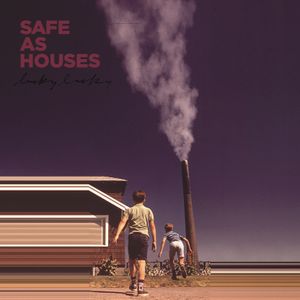 SAFE AS HOUSES - LUCKY LUCKY DELUXE 
Safe As Houses "Lucky Lucky Deluxe Edition" - Add Date April 25 -
Kitchener, ON | GENRE: FOLK | FOLK POP | ALTERNATIVE FOLK
VIDEO https://youtu.be/7vC-qTX7hP4 
Sounds Like: Wintersleep, Arkells, Hey Rosetta!, Hollerado 
Influences: Mumford and Sons, Simon & Garfunkel and The Arkells 
DROPBOX - CLICK HERE 
Resources - confidential - CLICK HERE
Website - CLICK HERE 
AIRPLAY DIRECT - CLICK HERE
Armed with a collection of youth-driven anthems, this kinetic quintet has amassed a cult following, spiraling out from their hometown of Kitchener, ON, where Safe As Houses' bandmates Elliot Anton (guitar, vocals) and Bensen Carter (cello, bass, vocals), along with brothers Andrew Laughton (guitar, vocals) and Thomas Laughton (drums, vocals), and Lauren Taylor (violin, vocals) laid the band's monumental foundation. 
**=Recommended Songs 
1. Those Days (3:36) recounts all the summer days that the band has spent playing music together, and generally attempts to capture our feelings of joy and gratefulness for having such experiences. 
2. **Alive (3:55) is a song that explores the ubiquity of impermanence and how this concept. persists in our lives. 
3. **Lucky Lucky (4:05) emphasizes the effect, and therefore importance, that single "snapshot" moments have in our lives. This narrative is told through the analogy of photography seeing photographs as the moments that define our life-story and self-concepts. 
4. **Bird on Display (3:45) is a song that touches on the role that social support systems play when working through mental health issues. 
5. Coney Island (3:08) compares love and relationships to a theme park ride at Coney Island. 
6. **Threnody (3:12) tells the story of an avaricious king who questions his life while on his deathbed. In his contemplation, he begins to regret his lifestyle and understands that he is unlikely to receive a threnody, or funerary song, upon his death as a result. 
7. Ghost (4:00) is about how pervasive addictive or habitual tendencies are in our everyday lives, like a ghost that exists within us. 
8. Kid in a Castle (4:25) is about the pitfalls of spending one's life pursuing wealth and fame with the belief that this will make them happy-hypothesizing that it ultimately doesn't. 
9. Hey Little (2:34) takes a calm stepback, putting the seemingly complex and overwhelming topic of life into a wider perspective. 
10. Just A Dream (2:53) explores having surreal feelings towards life, especially when pondering emotionally-laden topics. 
11. **Lucky Lucky (Acoustic (4:12) is about how the childhood emotions of wonder and excitement that we used to experience around Christmas have greatly decreased as we have grown older. 
12. **Heat in Our Lungs (Acoustic (3:43) is a song that explores the ubiquity of impermanence and how this concept exists in our lives. 
ALBUM CREDITS 
All songs written by Elliot Anton, Bensen Carter, Andrew Laughton, Thomas Laughton, Lauren Taylor 
Elliot Anton: vocals, guitar, banjo, mandolin |  Bensen Carter: vocals, bass, cello |  Andrew Laughton: vocals, guitar, piano  | Thomas Laughton: drums, vocals | Lauren Taylor: Violin, viola, vocals 
Recorded by J. Richard Hutt at Cedartree Recording Studio | Mixed by Sam Hillifer | Mastered by Joāo Carvalho
MORE ABOUT SAFE AS HOUSES
Fresh off the release of their critically acclaimed 3rd studio album, Lucky Lucky, Safe As Houses continues to push boundaries in the folk world with their genre-splicing alternative-folk sound, infused with flecks of pop and rock.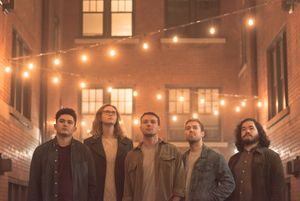 Chasing a more expansive sound, Safe As Houses enlisted Lauren Taylor (violin, vocals) to round out their signature string-centric arrangements and soften the edges of their soul-stirring harmonies. 
Since their debut on the music scene in 2014 with their freshman album,The Fall of a Sparrow, and further fuelled by their follow-up releases, Hurricane (2016), and Lucky Lucky (2018), audiences and critics alike have celebrated their undeniable musical aptitude, praising their tight performances and likening them to legendary artists: "Their music follows in the footsteps of Mumford & Sons with orchestral arrangements and big builds... will leave you with goosebumps" - BAM Productions. 
On the heels of their most recent release, Safe As Houses inspires a new generation of listeners with their fresh, energetic take on the genre, while dabbling in whimsy and nostalgia to satisfy even the most seasoned of folk enthusiasts - "If ever there was a record that could reach several generations of roots fans all at once, this might be it" -Roots Music Canada. With the world at their feet, 2019 promises to be a definitive year for the young band with the release of their new album, Lucky Lucky Deluxe. 
Press Quotes 
Roots Music Canada - "This young band from the Kitchener/Waterloo area brings some gorgeous harmonies to its unique and beguiling modern folk-crossover sound."  AND "The arrangements are cinematic and ethereal, carefully walking the line between jangly pop-rock electric guitar riffs and sweet violin licks and banjo parts." 
TOUR - *subject to change – SAFE AS HOUSES- CHECK OFTEN FOR Full Tour HERE​​​​​​​
SAFE AS HOUSES – LUCKY LUCKY DELUXE TOUR 
MAY 4 SAT | Hamilton Salvation Army Mountain Citadel (COMC Annual "Hope" Concert) | Hamilton, ON 
MAY 18 SAT | Horseshoe Tavern | Toronto ON 
MAY 30 THU | Paris Fairground (PEACE DAY ONTARIO 2019) | Brant, ON 
JUN 19 WED | True North 2019 | Waterloo, Canada 
JUN 21 FRI | The Music Hall Concert Theatre | Oshawa, Canada 
JUL 13 SAT | Desboro Music Hall | Chatsworth, Canada
ACCOLADES 
2014 CBC Searchlight Regional Finalists 
2015 #13 song The Sun and the Storm in the Top50 most played Canadian songs on CBC Sonica this year 
2015 Battle for Koi Runnerup
CONTACT INFO 
MANAGEMENT: Chris Thompson - Subculture Music - chris@subculturem.ca (647) 689-6022 x 1 
BOOKING: Matt Layne - Subculture Music - matt@subculturem.ca (647) 689-6022 x 4 
RADIO - SERVICING, REVIEWS & INTERVIEWS 
Trespass Music 
Michelle Fortier - Canada, USA, World - michelle@trespassmusic.org (519) 300-5954 
Larry Ahearn - USA  - larrya@trespassmusic.org (610) 574-6276 
SOCIALS 
WEBSITE | Facebook  | Twitter | Instagram | YouTube | Spotify  | Apple Music
Trespass Music Radio Promotion 
Artist Management, Radio Promotion, Roster Booking, Consultation 
We promote the music and the musicians we're passionate about in these genres: 
Folk, Americana, Country, Roots ~ Thanks to DJs and reviewers for keeping the music alive! 
Michelle Fortier - CANADA/USA/WORLD - michelle@trespassmusic.org - 519-300-5954 
Larry Ahearn - USA - larrya@trespassmusic.org - 610-574-6276 
Michelle Fortier Publicity 
Social Media, Marketing, Radio Promotion, Consultation - Michelle Fortier - michelle@michellefortier.com 519-300-5954 
Interviews please contact Michelle Fortier 
About Trespass Music & Michelle Fortier Publicity 
Michelle Fortier Publicity (formerly Wingschell Entertainment) was established 14 years ago, and merged services with Trespass Music 9 years ago. Taking the reins of Trespass Music with USA partner Larry Ahearn in February 2017 has meant determination and tireless efforts to ensure clients continue to achieve results. Artists past and present include Craig Bickhard, Idlewheel, Loretta Hagen, Ken Dunn, Tia McGraff, David Graff, Randall Kromm, Bruce T. Carroll, Nathans & Ronstadt, Folkapotamus, Rick Drost, Nathan Bell, Sloan Wainwright, Jon Vezner, Linda McRae, Matt Borrello, and Marc Douglas Berardo, Same Latitude As Rome, Benjamin Dakota Rogers, among others. Clients include Authors: Susan Wheeler-Hall and Tia McGraff, Radio show: Folk Roots Radio with Jan Hall, TV shows: Scribes & Songsters and Sun Parlour Coffee House Sessions, Venue: The Bank Theatre, Business: Counter Effects. 
Our clients have received numerous accolades, awards and nominations and have been named to Best of and Top lists in industry as well as receiving stellar reviews in premier magazines, ezines, and radio interviews. We are proud members of Folk Alliance International, Folk Music Ontario, and NERFA. It all comes down to Planning, Follow up, Growth, Engagement, Longevity and Success! 
Thanks to our clients for your talents and industry members for your dedicated support.