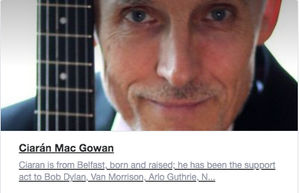 As a special treat for The Bank Theatre in partnership with Crave Family Grill & pub event "A Little Bit O'Blarney ~ Eat, Drink, & Be Irish, Trespass Music reached out to Ireland's Ciarán Mac Gowan.
(pronunciation: 'Key-A-Ran', just in case!)  
Ciarán Mac Gowan was born and raised in Belfast and lives alternately between Belfast, Ireland, and San Francisco.  
Ciarán in collaboration with Steve Cooney recently released 'Wild Mountain Thyme' to radio worldwide.   
Steve Cooney is well known for his collaborations with Clannad, The Chieftains and many others; and was recently awarded the '2020 Lifetime Achievement Award' by RTÉ, (Irish National Television). 
As for Ciarán Mac Gowan, he's been support act to Bob Dylan, Van Morrison, Christy Moore, Nancy Griffith, and others. 
In asking if we could share his song with all of you for our event he said, "That sounds lovely. How can I help? You can sure use the song but maybe I could help in some other manner too. Free download of the song for sure,...I have many more originals that you can listen to on SoundCloud (including a couple with boys from Gerry Rafferty band); or how about a small poster of the 'Wild Mountain Thyme' song art? 
Our version of this old song is quite different and I was prompted to release it just now as last month saw the release of the romantic Irish comedy movie by the same name! 
I've been updating my web-page to include a couple of Irish tracks, namely 'Wild Mountain Thyme' and 'Raglan Road'. There are also new videos, from the California and Belfast bands and one of them is a concert version of 'Carrickfergus' - but as usual, I have my own fresh take on it."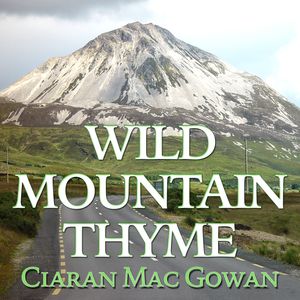 Go raibh maith agat, 
Is misé le meas,  
Ciarán Mac Gowan
 
Website: 
https://ciaranmacgowan.com/track/2565934/wild-mountain-thyme 
More tracks available on SoundCloud: 
https://soundcloud.com/ciaran-mac-gowan/tracks 
The Story of recording 'Wild Mountain Thyme in Dingle': 
Ciaran Mac Gowan Band rocks through Bossa, Jazz, Rock and Blues, all self-penned, with a great voice - and man, wait 'til you hear him whistle!
In the 'eighties' Ciarán was playing Lisdoonvarna and Ballisodare Festivals but emigrated to California where he changed careers to photography, shooting for Capitol, Sony and Polygram in Los Angeles. 
One fateful evening he crossed paths with Steve Cooney who was headlining 'The Irish Arts Festival' in San Francisco with the Kerry duo 'Cooney and Begley'. Over a cup of tea in Ciarán's kitchen Steve asked why he had quit music for photography. 
This is the story: the 'Ciaran Mac Gowan Band' played weekly in The Errigle Inn, Belfast; an eight piece band complete with horn section; Andy White on bass, Gerry McIlduff (Pretenders) on drums, Nicky Scott (Van Morrison) on guitar. He recorded live on radio and television for BBC, UTV and RTÉ. He supported the 'big acts' of the day, Janis Ian, John Martyn, Richard Thompson, and his first record 'London Trip' released on Good Vibrations was play-listed 'Record of the Week' on RTÉ. 
He was twenty-five. 
Then they blew up the Errigle Inn! Six months later the band was back in a rebuilt bar. Three weeks later they blew it up again! 
That was it! Ciaran left home in frustration, - dangerous times for everyone, impossible times for musicians. He jumped ship for California, and jumped careers to photography! 
Steve left Ciarán's house that night and mulled it over. Three weeks later and back home in Kerry, Steve phoned Ciarán and generously offered him recording time in his studio in Dingle. A long-haul flight and a rented car had Ciarán in Kerry within 24 hours! – and from that comes this beautiful rendition of 'Wild Mountain Thyme' a well-worn classic refreshed in 12/4 time with superbly accomplished whistling. 
From that day forth Ciarán came home as often as possible, regularly returning to Belfast, playing support to Bob Dylan, Van Morrison, Arlo Guthrie, Nancy Griffith, Dick Gaughan and many other concerts. 
"And so here we are today, twenty years on. Hollywood released 'Wild Mountain Thyme' – a romantic comedy! Make of that what ye will, but as for Ciarán and Steve's rendition, we urge you to check it out on any streaming platform (Spotify, iTunes, Amazon)." 
It's a very beautiful version. 
Go raibh mile maith agat! 
Much gratitude from all of us at Trespass Music and in support of The Bank Theatre and Crave Family Grill and Pub, in Leamington, Ontario. We hope you have an amazing St. Patrick's holiday!