Trespass Music is pleased to release to worldwide radio Kathleen Healy's new album "Embracing The Journey" on February 1, 2020.
Kathleen Healy - EMBRACING THE JOURNEY
MASSACHUSETTS | FOLK | RELEASE DATE FEB 1
DJs AIRPLAY DIRECT CLICK HERE 
DROPBOX - CLICK HERE 
ONE SHEET CLICK HERE 
WEBSITE CLICK HERE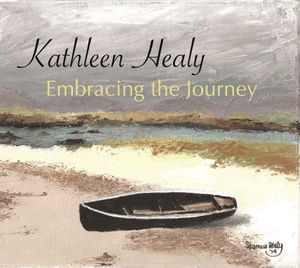 Kathleen Healy's new album "Embracing the Journey" is a collection of 12 original songs written straight from the heart about embracing this journey we are all traveling, the highs and lows she's weathered along the way, and the incredible people she's been blessed to have encountered.
Kathleen Healy is a hard-working musician & songwriter living on Cape Cod. For many of her songs, she draws from her experience of living and raising a family near the beach. Some say saltwater runs through her veins. She writes from the heart - her honest lyrics and often poignant subject matter lend themselves to the unique quality of her voice.  
 "This album was to be released in the fall of 2018, then my father died and final recording sessions were postponed. It was rescheduled for a 2019 release, but like all journeys, life gives us obstacles to overcome. It was imperative for me to tend to family matters and all that entailed. I am now thrilled to finally share 'Embracing The Journey' with you!"   - Kathleen Healy, January, 2020
"The 12-track, 42-minute LP is of a personal nature. Her melodies are often memorable with touches of classic melodies from other sources ("Gift From My Mother") the most obvious. Nonetheless, the tune is a beauty, with excellent sound. A playful tone to Ms. Healy's voice — ala Nanci Griffith. (True, as well of "Slip Away"). Most effecting. 
Kathleen is a valued folk singer. She steps into big shoes. Has sincerity, poignancy & warmth to her repertoire. She isn't yet political – yet. She seems to prefer the importance of family, friends, unions & reminding all of us — life is worth living." 
--John Apice - Americana Highways
Kathleen Healy was presented by Folk DJ Bob Weiser of WOMR at the annual DJ Showcase at the 2019 NERFA (Northeast Regional Folk Alliance) held in Stamford CT. "Small Things" was a finalist in the 2018 New England Song Writing Contest in the folk category.
"Kathleen Healy writes songs that come right from the heart, and when she sings them for you, they'll go right into your heart."  
— Bob Weiser, host of the Old Songs' Home Radio Show on WOMR, Provincetown, MA 
​"​KATHLEEN HEALY/Embracing the Journey: An engaging folkie​, ​A solid set of acoustic music with an ear bent toward liberation.​" --Midwest Record​
Kathleen Healy "Embracing the Journey" Track Listing *focus track* 
1.Two to Tango - 3:41 (guitar, tenor guitar, mandolin) Americana tune about mis-placed blame   
2.Enough – 4:01 (guitar, piano, pedal steel) a heartfelt song about a woman losing her battle with addiction  
3.More – 3:20 (guitar, electric guitar) a love song about marriage – in triple   
4.Speaking Out – 2:57 (guitar, mandolin, piano) a folk anthem for the Me Too movement. Found it's way on to WFUV's Sunday Supper show when Christine Lavin was guest hosting for John Platt last summer  
5.Keep Comin' Back – 3:20 (guitar, hollow body electric, light percussion) a catchy, snappy, upbeat pop song about the ups and downs of love  
6.Vagabond – 3:22 (guitar, violin, pedal steel, piano) an airy song about the fragility of life  
7.Over the Ocean – 3:41(guitar, electric guitar, percussion) a slow ballad about longing for home 
8.Gifts from my Mother – 3:31 (guitar, mandolin) a light and heartfelt tribute to my mom and mothers everywhere 
9.Old Man Winter – 5:09 (guitar, pedal steel) a haunting bluesy number lamenting the return of winter 
10.Slip Away – 2:32 (guitar, mandolin) an upbeat pop tune dedicated to my kids and how quickly the time goes 
11.Small Things – 3:23 (guitar, mandolin) a sing-along modern folk song– for people who are feeling hopeless in these uncertain times. Features Mark Erelli on vocals. 
12.House of Love – 2:50 (guitar, mandolin) an up-beat Americana song about the history behind my favorite house to play – *O'Shea's Olde Inne in West Dennis, MA. Dedicated to the late owner Joseph Shea. *O'Shea's has featured the likes of David Olney, Mary Gauthier, Johnny Nicholas, Jeffrey Focault, and Slaid Cleaves, to name just a few
(Track Credits) 
Kathleen Healy – Lead Vocals, Guitar 
Jon Evans – Bass, Keyboards, Lead Guitar, Tenor Guitar, Mandolin, Pedal Steel, Percussion, Backing Vocals 
Randy Patterson – Mandolin, Lead Guitar, Backing Vocals 
Bill Kwaak – Drums, Backing Vocals 
Katy Boc Nickerson – Fiddle on Vagabond 
Mark Erelli – Vocals on Small Things 
Catie Flynn, Kim Moberg, Tanya Roza, & Doreen LaFranchise – Backing Vocals
Produced, recorded, and mixed by Jon Evans at Brick Hill Studio, Orleans 
Cover Art: Original Oil Painting by Seamus Healy Photographs: Kara Ryan  Jacket Design: Moira Swiatkowski 
From Kathleen ~ 
Heartfelt thanks to all who inspire me as a songwriter and who have supported me through this process, too many to list on this little jacket. You know who you are. I could not have done any of this without you. Thanks for accompanying me on this journey. Looking forward to seeing where it takes us next!"
ABOUT KATHLEEN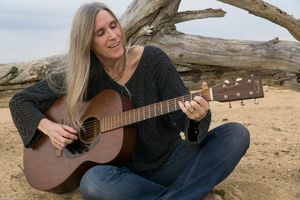 Kathleen Healy is a hard-working musician & songwriter living on Cape Cod. She draws from her experience of living and raising a family near the beach for many of her songs. Some say saltwater runs through her veins. She writes from the heart and her honest lyrics and often poignant subject matter lend themselves to the unique quality of her voice. She admits to being a live music junkie but is currently not seeking treatment for her addiction. 

Kathleen appears regionally in southern New England as a solo performer. She hosts open mic nights at local venues and thoroughly enjoys supporting the live music scene on Cape Cod and collaborating with other local musicians. When she is not performing or hosting, Kathleen can be found back in the studio recording new tunes. Her second studio album, Embracing the Journey, will be released February 1, 2020. Her first studio album, Spark, was released in June of 2014.  - BMI/FAI/RISA/SAI member 
"Singer-songwriter may categorize Kathleen Healy, but what it doesn't do is tell us what she writes and what she sings, how she finds meaning and poetry in the everyday and how through her music she explores life's struggles, hopes and simple joys. 
I suppose one could also say she's a folk singer, not in the sense that she sings of grand deeds or great tragedies, but in that her songs and stories are our songs and stories and through her music we see ourselves." – Joe Burns, The Register, Barnstable, MA  
"To say that music is a serious passion of Kathleen Healy's would probably be something of an understatement. Since returning to her Harwich hometown roughly a decade ago, Healy has added her voice to the chorus of Cape singer-songwriters while making sure to give back as often as possible"  - Kat Szmit, Cape Cod Chronicle, Chatham, MA
Social Media 
Spotify | Facebook | Twitter | YouTube  | Instagram | CD Baby