Trespass Music is pleased to release Craig Bickhardt's new album "Outpourings" to radio February 1, 2023.
CRAIG BICKHARDT | PA, USA | FOLK | AMERICANA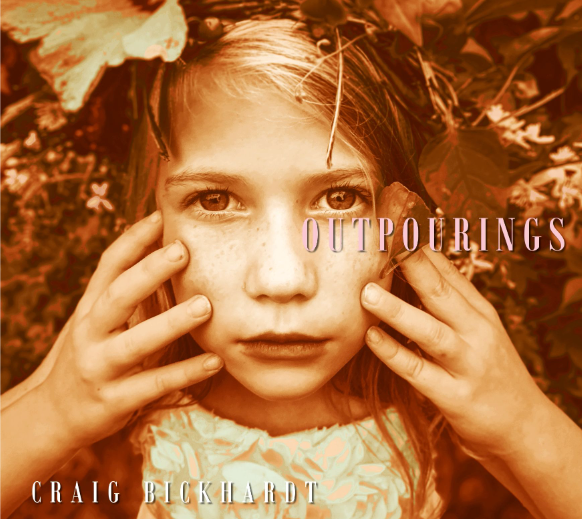 Releasing February 1, 2023 
Dropbox CLICK HERE
Airplay Direct CLICK HERE released Feb 1
One Sheet CLICK HERE
OUTPOURINGS: AN IMPRESSION 
When you carry your guitar from gig to gig you are bound to bow your head a little – not from the wind and rain, but from the weight of all those stories aching to break open, all those rags of melody unheard and unravelling. You feel responsible for the tale gone untold, and it starts to tell on you when you sing them under your breath instead of taking the spotlight and striking the opening chord. But then you straighten up as if there's something beckoning you on, even if it is just the door of a cellar club ajar or an empty chair on a coffee house stage.  The guitar begins to speak, the voice rises, and the burden turns to joy. 
Craig Bickhardt's musical vagabondage has taken him from defiance to acceptance, infused him with wanderlust and blessed him with reconnection. His career has been a dialogue with his six-string, a dialectic with his dreams, a reckoning with memory. The journey has been one of eternal return, with unexpected detours and strange rambles before the arrival home. Outpourings captures these turning points and shocks of recognition – it's less a summing-up than a conversation between the artist's selves and personas. A thread runs through these disparate tunes, one that binds together the emotions and eras woven into the music. Learning to love is a big part of it; embracing hard truths without surrendering ideals is also very much present. More than anything, the songs here are a celebration of an artist's freedom to walk the narrow path of a finely wrought lyric line or balance on a thin wire of an unbreakable tune. As Craig sings, he lives for this. 
Taken as testimonies, confessions and old-fashioned yarns, the songs on Outpourings are vividly human portraits painted with a sense of wonder and clear-eyed grace.  These songs are superbly rendered miniature studies of scenes and characters that achieve a deeper resonance with sharp-drawn images and indelible hooks.  Craig is both a masterful narrator and intimate participant, veering from snapshots of war-torn lovers ("England or Me") to working-class anthems ("If Holes Were Coins"), from ballads of exalted longing, to hymns, to elusive desire. There's a visionary sensibility that harkens back to classic late '60s/early '70s folk- rock in evocative tracks like "Emerald Eyes" and "Ha'penny Standup." A sense of compassion and a demand for justice runs through "Fire of the Spirit" and "Hills of Geronimo." Though unashamedly introspective, Craig looks outward with compassionate insight through the eyes of others, as "She Won't Be Yours Alone" shows. 
In the end, these disparate yet unified songs lead the listener back to the artist himself, a true believer who hasn't lost the awe and delight he felt when he first embraced the craft of making music. Outpourings hums with a sustained intensity that reflects a lifelong thrall to a Muse that sometimes teases but never turns away. An undercurrent of gratitude is evident even in the album's most bittersweet moments. 
"In dreams begin responsibility," W.B. Yeats said. Few things can be more joyful than living up to a high calling. Outpourings is one artist's expression of what this means over a lifetime.  The tales are herein told as only Craig Bickhardt can tell them. And if he bows his head, it is in honor of the Muse.    -- Barry Alfonso
ABOUT THE ALBUM

"Outpourings" by Craig Bickhardt is the work of an artist who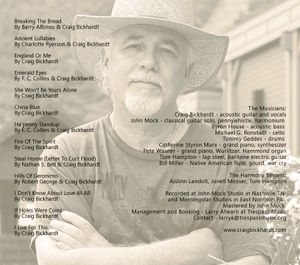 has lived enough and dreamed enough to know the weight of a simple lyric line and the power of a melody to summon angels and keep demons at bay. There's a wealth of experience in this music, tapping into years of writing and performing before crowds and in quiet solitary hours. But more than that, there's a sense of un-restrained wonder that Craig has never lost since he first picked up his guitar. As he sings, he "lives for this" and he can't keep what it stirs in him to himself. Defiance… acceptance… wanderlust… reconnection. These themes resonate within "Outpourings". The journey is one of eternal return, with a thousand detours and surprises. Let Craig show you what he's seen.
SONG DESCRIPTIONS
1. Breaking The Bread - 3:34 (Barry Alfonso & Craig Bickhardt - ASCAP)   "Breaking the Bread" is a song of welcome with a message of forgiveness and healing. The timeless folk ballad feel of the tune suggests hard-traveling down old roads towards the bright lights of home.
2. Ancient Lullabies - 4:30 (Charlotte Ryerson & Craig Bickhardt - ASCAP)  "Ancient Lullabies" moves through diamond clear poetic imagery on music heard by dreamers and outcasts in unlikely places. It's an anthem for anyone trying to catch the elusive sounds of shadows made real.
 3. England Or Me - 4:06 (Craig Bickhardt - ASCAP) There's a cinematic quality to "England or Me" rooted in a true-life experience of romance during World War II Britain. The lyric lets you hear the bombs fall as the lovers face a moment of truth.
4. Emerald Eyes - 4:05 (F.C. Collins & Craig Bickhardt - ASCAP) Finely wrought with a passionate core, "Emerald Eyes" began as a chorus Craig wrote when he was a starry-eyed 18-year-old. The song has grown into a deeply felt invocation of love that shines with a gem-like inner flame.
5. She Won't Be Yours Alone - 3:09 (Craig Bickhardt - ASCAP) "She Won't Be Yours Alone" celebrates a gallery of strong feminine characters with a sweeping, buoyant melody that's both wry and filled with delight. It's a song of experience infused with a young man's desire.
6. China Blue - 3:39 (Craig Bickhardt - ASCAP) Haunting and insinuating, "China Blue" came to Craig in a dream (with a little inspiration from reading classic Chinese poetry). There's an austere stateliness to this tune, along with hints of the kind of introspective folk magic the likes of Bert Jansch and John Renbourn used to conjure up.
7. Ha'penny Standup - 4:06 (F.C. Collins & Craig Bickhardt - ASCAP) "Ha'penny Standup" harkens back to a folk-rock era when elusive but evocative lyrics rewarded close listening. The mysterious relations and seductive hints flitting through the lyric are carried by a billowing, expansive melodic line.
8. Fire Of The Spirit - 4:15 (Craig Bickhardt - ASCAP) A palpable outrage at the stigmas facing loved ones with special needs propels "Fire of the Spirit" – but the anger turns into something anthemic and uplifting as Craig strikes a universal chord of human dignity.
9. Steal Home (Letter To Curt Flood) - 4:01 (Nathan S. Bell & Craig Bickhardt – SASAC, ASCAP)  "Steal Home 
(Letter to Curt Flood)" is a slice of Americana with a knowing twist, delving into the intersection of baseball and human rights that remains relevant today. The easy back porch melody lets the message of quiet courage and freedom settle in easy.
10. Hills Of Geronimo - 5:17 (Robert George & Craig Bickhardt - ASCAP) There's a vivid panorama of historical vision to "Hills of Geronimo" lent additional resonance by Bill Miller's Native American instrumental work. Craig's take on a Western ballad paints a desert landscape and fills it with the ghosts of heroes past as well as a hope for revival.
11. I Don't Know About Love At All - 4:06 (Craig Bickhardt - ASCAP)   "I Don't Know About Love at All" rings with echoes of Mickey Newberry, Billy Joe Shaver and other masters of outlaw country with a wounded sort of wisdom that invites long ponderings over old scotch by a roaring hearth fire.
12. If Holes Were Coins - 3:37 (Craig Bickhardt - ASCAP)  The spark for "If Holes Were Coins" was struck during a visit by Craig to a once-prosperous Upstate New York town. There's a bite and simmering fury to this tune that bids to make it a modern working-class protest anthem.

13. I Live For This - 4:05 (Craig Bickhardt - ASCAP) "I Live for This" brings the album's musical vagabondage back to the unshakable love of song that has kept Craig going through fair and fearful times. Rolling guitar lines and rippling jazzy piano capture a sense of creative movement as a true believer testifies to his constant muse.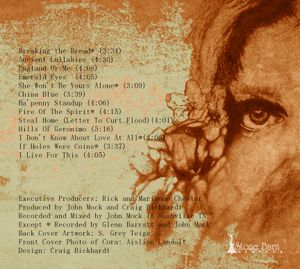 MUSICIANS/MIXING/MASTERING
Craig Bickhardt – Acoustic guitar and vocals   
John Mock – Classical guitar solo, pennywhistle, harmonium    
Byron House – Acoustic bass  
Michael G. Ronstadt– Cello  
Tommy Geddes – Drums  
Catherine Styron Marx – Grand piano, synthesizer  
Pete Wasner – Grand piano, Wurlitzer, Hammond organ  
Tom Hampton – Lap steel, baritone electric guitar  
Bill Miller  – Native American flute, gourd, war cry    
Aislinn Landolt, Jonell Mosser, Tom Hampton – Harmony Singers 


Recorded at John Mock Studio in Nashville, TN and Morning Star Studios in East Norriton, PA  
Mastered by John Mock  
Executive Producers: Rick and Marianne Chester  
Produced by John Mock and Craig Bickhardt  
Front Cover Photo: Aislinn Landolt  
Back Cover Artwork: S. Grey Teige  
Design: Craig Bickhardt
 
ABOUT CRAIG BICKHARDT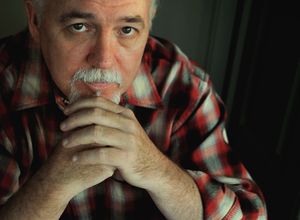 When Craig Bickhardt steps onto a concert stage, he comes equipped with his trusty acoustic guitar. A side musician or two will frequently join him. He"s also accompanied by something invisible, yet ever-present: the stories of a lifetime, vividly translated into words and melody.

From the boisterous club scene of Philadelphia to the country-rock milieu of Los Angeles to the picking parlors of Nashville, Craig has immersed himself in the sights and sounds of American music. His music reflects a life lived as a rock band lead singer, a solo troubadour, a dedicated songwriter, a husband and father. Dreams, heartaches and hard-earned lessons have fed his creativity. There is no other way he could've written the eloquent, often bittersweet songs that have become his trademark.
"I start a lot of songs because I feel conflicted," he explains. "I may begin from a point of darkness, but I usually end up writing towards the light because, for me, hope is the thing worth singing about. The characters in the stories I sing aren't heroic; they"re very ordinary. But they"re reaching for something beyond themselves, and I find nobility in that."

Craig is a singer/songwriter of the old school – you can hear echoes of such "60s folk revival artists as Tom Rush, Gordon Lightfoot and Eric Andersen in his work. Added to this is the melodic sophistication of a Jimmy Webb or a Paul Simon, as well as a spare but telling lyric approach. "I admire songwriters like Woody Guthrie and poets like Robert Frost because they created functional art," he says. "Too much music today is just for the singer, not for Everyman. I think of my work as a "Please Touch" museum – I want my songs to be sung until they're worn out."

Also crucial to Craig"s art is his virtuosic guitar work, interweaving folk, blues, country and ragtime influences into a unique whole: "The guitar isn't just an accompanying instrument for me – sometimes it's the front man and my voice is the accompanist."

Craig came to music as something of a family inheritance. His father Harry worked at WIP radio in Philadelphia and moonlighted as a big band musician. As a youngster, Craig absorbed everything from Johnny Cash and Marty Robbins to Stan Kenton and Duke Ellington. At 14, Craig found an old guitar in the family attic and taught himself to play. Soon he was writing songs and performing at venues like Philadelphia"s famed Main Point.

The Philly club scene shaped his emerging musical style. "I was lucky to grow up in a town that was a melting pot for musicians," Craig says. "I got to hear lots of R&B as well as the great folk performers of the late "60s and early "70s. It taught me that nothing moves people like a great song sung with some passion."

By the mid-70s, Craig was co-lead singer/guitarist with Wire and Wood, an eclectic countryrock quintet that won a fervent East Coast following. The group opened for the likes of Bruce Springsteen and Stephen Stills before relocating to L.A. in search of a record deal. Craig and his compadres succeeded in attracting the interest of Bob Dylan"s former manager Albert Grossman, 2 who signed them to his Bearsville/October Records label. Unfortunately, Wire and Wood"s album was never completed and the group called it quits soon after.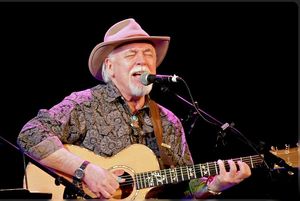 Craig went through another life-changing ordeal while living in L.A. One night, he awoke to find that the house he shared with his band mates was on fire. He barely managed to escape before the place collapsed in flames – and came away with a revelation: "At that moment, everything in the world felt luminous again, like it did when I was young. That experience made me realize that my happiness didn't depend on possessions or status. I suddenly felt free and very grateful to be alive."

This brush with mortality also re-motivated him as a musician. After Wire and Wood dissolved, Craig secured an assignment to write and sing songs for Tender Mercies, a country music themed film starring Robert Duvall. This led to a lengthy residency in Nashville, where he saw his songs recorded by such legends as Ray Charles, B.B. King, Johnny Cash, the Judds, Tony Rice and Alison Krauss.
All the while, Craig continued playing his music live at the Bluebird Café and other clubs in the Nashville area. The call to the stage grew stronger after he released his first solo album, Easy Fires, in 2001. Five years later, he returned to his Pennsylvania roots and fully came into his own as a solo performer. By the end of the decade, Craig had won a new legion of fans on the East Coast and beyond through opening gigs for the likes of Judy Collins, Kathy Mattea and Billy Joe Shaver and club dates on his own.
A Craig Bickhardt live set is a mix of absurd anecdotes and personal confessions, accompanying a well-stocked bag of original tunes and the occasional choice cover. His decades in music have given his performances the depth of experience – his love songs seem sweeter and more poignant, his story-song narratives more true-to-life than they could have in the past. "I think people come to my shows to be reminded that there"s something profound in the small stuff we experience every day," he says. "My goal is to get an audience to look deeper at the things we all take for granted."

Craig Bickhardt travels light to his gigs – but he brings a great deal to the stage. He combines a seasoned troubadour"s easy command of his art with a beginner"s passion to win over his next audience and top his next song. The stories of his lifetime are simply too good not to share. -- Barry Alfonso
SOCIALS
WEBSITE | ITUNES | SPOTIFY | YOUTUBE | FACEBOOK |