Trespass Music is pleased to release Ken Dunn's brand new album "Anthology Volume 1" to radio worldwide on February 1, 2022.  This album is the follow-up to recent albums "Ashes In The Morning", "Live In L.A.", "Wondrous Beauty" and "The Great Unknown" all well-received by the folk community. "Anthology Volume 1"  includes several previously unreleased, rare, and live recordings, as well as selections from many of Ken's studio album releases over the past 25 years. From the classical music sounds of The Good Friday String Quartet to the driving folk-rock of Gypsy Starfish, to duets with partner Anna Green and Denny Kennedy, this anthology also includes live solo guitar and dulcimer tracks the listener will enjoy.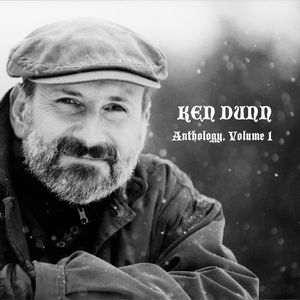 KEN DUNN | Windsor ON CANADA | MAPL 
SOCAN & ASCAP | Acoustic | Folk | 
RELEASE DATE FEBRUARY 1, 2022
DROPBOX CLICK HERE 
AIRPLAY DIRECT Side 1 CLICK HERE 
AIRPLAY DIRECT Side 2 CLICK HERE 
ONE SHEET CLICK HERE
ABOUT THE ALBUM *FOCUS TRACKS - TOTAL RUN TIME: 76 minutes 
*1. If You're Lost (4:22)  Acoustic folk meets classical music in this collaboration with four members of the National Ballet of Canada Orchestra who formed The Good Friday String Quartet specifically for this project. Featuring the soaring harmonies of Los Angeles songstress Denny Kennedy, and Ken Dunn's acoustic guitar and vocals perfectly complementing the overall mix, this song is a testament to the power of love and its ability to reset the moral compass. From the album "Time and Space" (2000)   
2. Fukushima Nightmares (3:01)  Featuring Dean Drouillard's searing electric guitar and Drew McIvor's haunting organ, this track is straight-ahead folk-rock and a reminder that we all have a much-needed role to play in making this a better world.  From the album "The Great Unknown" (2015)
3. Letter To My Son (3:13)  An old man reflects on lost love in this simple acoustic ballad with Ken's vocals and acoustic guitar driven by Wayne DeAdder's pumping bass rhythms. From the album "Time and Space" (2000)
4. Tahlequah (Live) (5:33)  An ode to the orca whale who became the subject of blatant media obsession after losing her child, and a reminder that all of life is interdependent. Instrumentally, the track highlights Ken's finger-style acoustic guitar. Recorded Live in the studio at "Folk Roots Radio", Leamington, Ontario by Jan Hall (2019)
5. Hold On (2:51)  Highlighting Tyler Beckett's sizzling fiddle work and Mark Mariash's signature shuffle on drums, this tune is an upbeat folk-rock toe-tapper. From the album "Wondrous Beauty" (2017)
6. Forsaken By These Blues (4:27)  The musical virtuosity of the "mighty Gypsy Starfish band" (No Depression, The Roots Music Journal) shines on this bouncy blues-infused number which features Ken and Dean Drouillard on dueling electric guitars and Randy Martin's driving bass. From the album "The Great Unknown" (2015)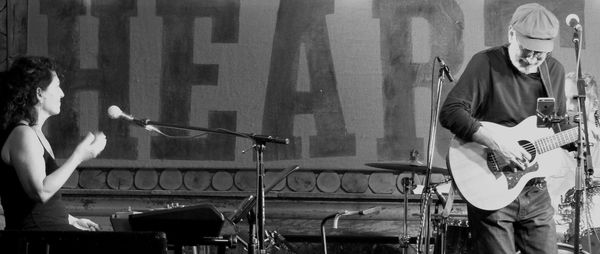 7. Laughter in Your Veins (2:49)  Once again, Ken and Dean Drouillard trade electric guitar licks and Anna Green's harmony vocal harmonies lift this track to a joyful height consistent with the positive message. From the album "Ashes in the Morning" (2020)
8. Winds of Emotion (Live) (3:51)  A simple live track about awakening to the beauty of life, featuring Ken on Appalachian dulcimer and vocals. Recorded live on "Expose Yourself" with host Linda Luigi, Rogers Cable Television, Stoney Creek, Ontario. (1994). Mark Mallett - Recording Engineer. Produced by Dave Goddard. 
9. Heart of Mine (3:47)  Written while on tour in California in the'90s, this sad, soulful tune tells the story of homeless musicians Ken met in San Francisco. Features Denny Kennedy on harmony vocals and Stephen Fuller on viola. From the album "Precious Life" (1996)
10. Old Pouring Rain (5:29)  Another tune featuring the lush sounds of The Good Friday String Quartet set against the counterpoint of Ken's acoustic fingerstyle guitar. A musical prayer for peace on earth. From the album "Time and Space" (2000)
11. Dance of the Winter Fairies (2:35) An instrumental piece featuring Ken's finger-style guitar. Written by the woodstove one Canadian winter's eve. From the album "Time and Space" (2000)
12. Arms of Reason (2:35) Anna Green's vocal harmonies are front and center on this simple love song featuring Ken's acoustic guitar work. From the album "Sacred Water" (2014)
13. Mermaid of Avila (Live) (3:11) In addition to their studio work, Gypsy Starfish often played live in Ontario, Canada. This line-up features Keira McArthur on cello and Rob Elder on drums. Ken wrote this love song for Anna during their musical residency in Avila Beach, California. Recorded live at Heartwood Concert Hall, Owen Sound, Ontario (2016) 


14. Still I Believe (4:09) Tyler Beckett's fiddle and Anna Green's keyboard work really shine on this upbeat song about keeping the faith along life's difficult road. Mark Mariash really keeps it rolling along. From the album "Wondrous Beauty" (2017)
15. Hard Yellow Light (3:25) This early recording has an old-timey country vibe and features Ken on both acoustic guitar and harmonica. Recorded live at Greenwich Lane Studios, Burlington, Ontario. From the album "Winds of Emotion" (1994)
16. Hills of Strathavon (3:22) Another country-infused tune featuring fiddle champ Tyler Beckett and Jacob McCauley's bodhran. A sad tale based on early pioneer records in rural Ontario, Canada. From the album "Wondrous Beauty" (2017)
17. One Last Question (5:43) Carole T. Rowe's string arrangement and Denny Kennedy's harmonies feature prominently on this haunting existential piece. From the album "Time and Space" (2000)
18. St. James Infirmary (3:57) Roly Platt's plaintive harmonica, Ben Grossman's bone-like percussion, and Dennis Pendrith's pounding bass drive this traditional blues like a runaway train. From the album "Precious Life" (1996)
19. By a Windowsill (4:07) The Good Friday String Quartet return for a final run in this road lament featuring Denny and Ken in a vocal duet. From the album "Time and Space" (2000)
20. Don't Believe (Live) (3:47) A cautionary tale highlighting the importance of maintaining our connection to nature and our ability for critical thinking. Features the late Steve Didemus on acoustic guitar and the Denny Kennedy choir. Recorded live at The Festival of Friends, Hamilton, Ontario by Ken Wilson. From the album "Precious Life" (1996)
Words and Music by Ken Dunn (SOCAN, ASCAP) 
except Track 18, St. James Infirmary, Traditional 
This recording © 2022 All Rights Reserved 
Album photography - Rick Chard www.rickchard.com
ABOUT KEN DUNN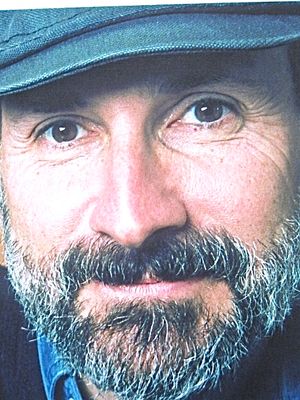 "Highly evocative and intriguing" (fRoots, UK), the music of Ken Dunn "sneaks into your feet, heart, and soul" (No Depression, USA), offering "refreshing insight into human complexities" (Festival of Friends, Hamilton) with a style characterized as "the folk tradition, with integrity and sincerity" (Chart, Toronto). Whether mining the depths of human emotion or pleading the case for social and environmental justice, Ken's songs are "filled with the human spirit" (CFMU Radio, Hamilton). 
Combining an adept fingerstyle acoustic guitar technique with "strong, distinctive vocals" (R2, Dublin), and "brilliant songwriting" (Hemifran, Sweden), Ken delivers his positive message directly to the soul of the listener with a style compared to that of Neil Young (Roots Time, Germany).  Known for his engaging stage presence, sense of humour, and delightful storytelling, Ken performs either solo or with partner Anna Green, whose vocal harmonies add an ethereal dimension to live performances. 
A veteran Canadian folk singer-songwriter, Ken has performed at hundreds of venues over the past 30 years, across Canada, the U.S., and Central America from concert halls to festivals and cafes, sharing the bill with folk and roots icons as diverse as Jerry Jeff Walker, Willie P. Bennett, Valdy, and Garnet Rogers. More recently, he has showcased with a number of emerging young Canadian artists including Annie Sumi, Benjamin Dakota Rogers, and Moonfruits to name but a few. 
Ken's passion for social and environmental justice is evident in the many benefit concerts he performs, supporting charities as diverse as the Harry Chapin Food Bank, Amnesty International, Playing For Change and LA Family Housing. 
Ken has released 10 albums featuring some of Canada's finest studio musicians, including Dennis Pendrith (Tom Paxton), Dean Drouillard (Jill Barber), Mark Mariash (Buffy Sainte Marie), Randall Hill, and Roly Platt. Ken's recordings have received critical acclaim, extensive airplay, and placement in film scores. 
Ken's latest album, a 20 track retrospective entitled "Anthology, Volume 1" will be released by Trespass Music on February 1, 2022. 
SOCIAL MEDIA LINKS 
WEBSITE | FACEBOOK | TWITTER | INSTAGRAM | YOUTUBE | SPOTIFY | BANDCAMP