Trespass Music is pleased to release to radio Aaron Nathans & Michael G. Ronstadt's new single "My Flag Too" on April 30, 2021. "My Flag Too" follows up the releases of the duo's first three critically acclaimed albums "Shadow of the Cyclone" (2020), "Hang on for the Ride" (2017) and "Crooked Fiddle" (2014). 

Aaron Nathans & Michael G. Ronstadt
PENNYSYLVANIA| OHIO | AMERICANA | FOLK
ADD DATE April 30, 2021 
DROPBOX CLICK HERE 
AIRPLAY DIRECT CLICK HERE 
ONE SHEET CLICK HERE 
VIDEO CLICK HERE 
APRIL 30 PREMIER ON NEW FOLK INITIATIVE 
"a commentary on patriotism called "My Flag Too." They have produced a video of the latter which the New Folk Initiative is honored to present exclusively today. 
Directed by Nathans, the video has scenes of Independence Square in Philadelphia, a Gettysburg battlefield and cemetery, and an African-American veterans monument in Delaware. There are shots of families of color with flags and a few familiar folk faces. With memories of his father and grandfather, Nathans seeks to restore the flag from partisan purposes, singing "this flag is not a weapon." John Platt - New Folk Intiative
Aaron Nathans & Michael G. Ronstadt present "My Flag Too," a mid-tempo reflection on how the American flag belongs to everyone. It tells the story of a first-generation American whose father fought in World War II, and how democracy becomes their inheritance. Amid an era where a few loudly try to co-opt the flag to their political cause, this song celebrates how the flag is a reflection of this nation's diversity. Watch for the video, to be released on April 30 on NEW FOLK INITIATIVE. 
"My Flag Too," a single by Aaron Nathans & Michael G. Ronstadt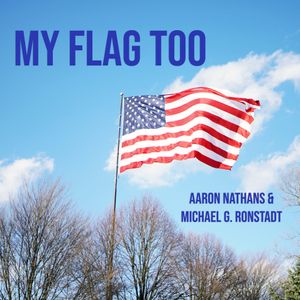 Music & Lyrics by Aaron Nathans 
Aaron Nathans: Vocals, guitar 
Michael G. Ronstadt: Cello, backing vocals 
Lance Martin: Pedal steel guitar 
Greg Brady: Electric guitar 
Recorded and mixed by Gregory Hugh Brady at Studio 1311, Chester Heights, PA 
MY FLAG TOO ~ Lyrics
A lawn chair in the morning, the band slipped down the street 
A five-mile run, a hot dog lunch, and games down on the green 
After sunfall, come one come all, glow sticks and flashlights 
My pop gave me a little flag and I waved it in the night 
Then they lit the spark, blasts in the dark, white and red and blue 
I held Old Glory in my little hand, this is my flag too 
When the old country went up in flames, this is where he fled 
He wore a gun and marched in time where Eisenhower led 
His brothers stormed the beaches, their blood is out at sea 
My pop he wore the uniform to save democracy 
Democracy, of many one, I'll shout it as the truth 
It's what he handed down to me, this is my flag too 

This flag don't stand for money, this flag don't stand for guns 
This flag is not a weapon for the ones who speak in tongues 
It don't stand for a party, or for a five-point plan 
I will not bow to idols and I won't rise for a man 
This flag is for our country, us and them and you 
When I rise up singing, I sing this is my flag too 
You can fly it from your truck, with a bumper sticker creed 
You can fly it from your boat, above "don't you tread on me" 
You can sell it in your ad, or show off your tattoo 
But that's not what the flag's about, this flag is my flag too 
(my flag too) 
Sitting on a blanket, staring at the sky 
Fifty stars gleam in the night and one of them is mine 
I think of those who came before who fought to keep us free
I know their sacrifice gave me the right to dream 

I'll fight for our country, son (girl), to hand it down to you 
So that when I'm gone the flag waves on, this is your flag too (x2)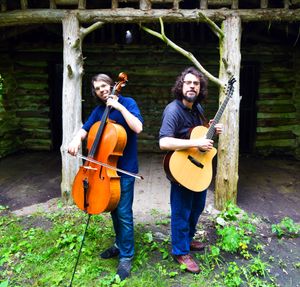 ABOUT NATHANS & RONSTADT 
Cello-based songwriters are rare, and the alt-folk duo of Aaron Nathans & Michael G. Ronstadt take advantage of Ronstadt's adventurous and wildly creative technique to face our shared disaster, head-on.

As an acoustic duo, the two create a compelling musical palate. Ronstadt's cello lines are reminiscent of the live-layered magic of Zoe Keating, and his songwriting reflects the creative diversity of Paul Simon. He weaves intricate patterns around Aaron Nathans' baritone voice, studied folk meters and dash of irony in the tradition of David Wilcox and Dar Williams. As multi-instrumentalists, the two play a total of 33 distinct instruments between them. 
Michael G. Ronstadt, nephew of Queen of Rock Linda Ronstadt and a member of a family with a rich musical heritage, holds a master's degree in cello performance from the University of Cincinnati College-Conservatory of Music. Aaron Nathans is an award-winning songwriter and a leader in Philadelphia's community of songwriters. 
WEBSITE/SOCIALS 
WEBSITE | FACEBOOK | NATHANS TWITTER | RONSTADT TWITTER | 
NATHANS INSTAGRAM | RONSTADT INSTAGRAM | SPOTIFY  
"We think Aaron's journalistic storytelling skills paired with Michael's unique instrumental (and songwriting) chops will continue to spin gold for as long as they choose to work together — a lengthy time, we hope!"  Richard Cuccaro -Acoustic Live in NYC
SHADOW OF THE CYCLONE "Almost Goth/folk, this acoustic duo with no fear of the darkness serves up a set that you'll never mistake for mush mouth sentiment. Dazzlingly different, this is the proof you can be dark without being depressing and bumming everyone out. A solidly different path for folkies to follow as they head out from the back porch." Chris Spectre - Midwest Record