Trespass Music is pleased to release to radio Bruce T Carroll's new single "Grandfather Walks" on June 10 in time for Father's Day! The single is in advance of Bruce's upcoming album "First Bird To Sing" due out fall 2021.
Bruce T. Carroll – Grandfather Walks (4:51)– single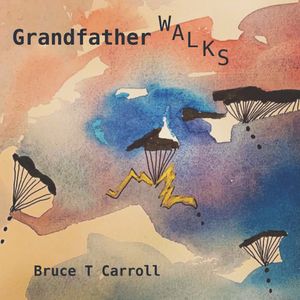 Connecticut | Americana | Folk Rock | Folk 
ISRC - QZEQ32100304 | ASCAP | BTTC Songs ©2021
Add date June 10, 2021 
DROPBOX CLICK HERE 
AIRPLAY DIRECT CLICK HERE 
ONE SHEET CLICK HERE 
ABOUT THE SONG
"Grandfather Walks is an homage to my grandfather, a Frenchman aptly named Voltaire, as seen through the eyes of my mother, Francine, who passed away at the age of 99 about a year ago. Voltaire was revered by his daughter and sadly died when she was only 16 years old. He lived on in her heart and through her warm remembrances of him, which she imparted to me. The memories her father inspired fueled my loving and imaginative depiction of the old man, the patriarch, the bon vivant, world traveler, and loving father to three little girls. In this song, and in the mind's eye, the grandfather and the father become one, a powerful archetype of strength and goodness." 
LYRICS
Grandfather Walks  (4:51) - ISRC - QZEQ32100304 | ASCAP | BTTC Songs ©2021
When I look in your eyes I see the story there told  
You drift in and out of the shadows  
To my ears and eyes the story never gets old  
Of Grandfather's walks in the meadow  
He had a satchel for berries and a knife for his bread And a fan should the day turn hot  
A stick for his walking and a hat for his head  
And in his pocket a blue forget-me-not  
There were three for his daughters and one for his wife And one for the boy never came  
A crown for his storied impossible life  
And one for the man who bore his name  
Weathered shoes he pulled on as he got out of bed  
A leather pouch for his bottle of wine  
Baggy pants pockets for the books that he read  
And poems…he could recite every line  
The heart is a radiant whole rising moon  
And wisdom a soft falling rain  
Youth is a faint and a faraway tune  
And time is a slow moving train  
So think of him when the sun rises hot  
When setting the table, or tying a knot  
When holding a book that seems bound by the ages
Or finding a flower pressed flat by the pages  
Sometimes in my mind my grandfather talks  
But most times grandfather walks
  
From Lisbon to London from Rome to Madrid  
But always back home to France  
His head full of stories of things that he did  
His life left to wonder and chance  
A path through the forest that he took everyday  
His three daughters trailing behind  
To the edge of the field where the trees fell away  
To the edge of the untroubled mind  
The heart is a radiant whole rising moon  
And wisdom a soft falling rain  
Youth is a faint and a faraway tune  
And time is a slow moving train  
On trips to the well to draw deep from the earth  
Or you glance at a mirror and discover your worth  
Or planning a trip back to your favorite spot  
To find your grandfather's blue forget-me-not  
The heart is an infinite whole rising moon 4X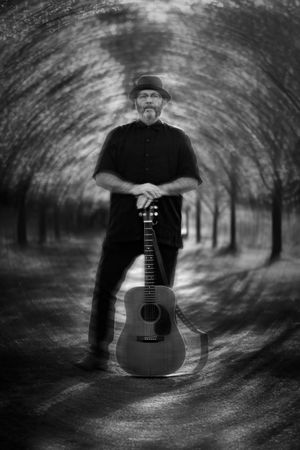 Song Information 
Bruce T Carroll: acoustic guitar, lead vocal 
Lee Falco: drums and vocals  
Brandon Morrison: bass and vocals 
Will Bryant: keyboards and vocals  
Sara Milonovich: violin 
Tommy Mandel: Accordian  
Produced by Bruce T Carroll 
Engineered by Brandon Morrison  
Mastered by Alan Douches/westwestsidemusic.com
ABOUT BRUCE T CARROLL
With the release in 2017 of his first official album Ruckus and Romance, hailed by No Depression Magazine as "devilishly brilliant" and "intensely beautiful", Bruce T Carroll established himself as an Americana artist with a social conscience and deft lyrical touch. Using irony and imagery as tools in trade, and a band of great musicians to back him up (Clifford Carter, David Spinozza, Marc Shulman, Sara Milonovich, Tracy Grammer, Nicole Alifante, Porter Carroll, Lincoln Schleifer, and Joe Bonadio) Bruce made Ruckus and Romance a distinctive debut, and his song "When Two Worlds Collide" helped bring the worldwide refugee crisis into sharp focus. Ruckus and Romance garnered significant airplay worldwide, including being featured on WFUV's "On Your Radar" hosted by John Platt, who called it "an accomplished album, attuned to the zeitgeist of the moment."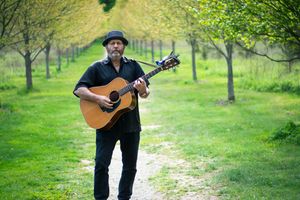 Bruce followed up only one year later (2018) with the release of the six-song EP Finding You. The album is a sort of lyrical tone poem, with the theme of finding, or regaining, something that had been missing or lost. What had been lost at that time, it seemed, was the very soul of the nation, mired as it was in the throes of right-wing governance that sought to undo a century of progressive gains. The signature song on the record, "Fox in the Henhouse" may still be Bruce's definitive statement on what was then the state of the union, and an apt description of the man (now deposed) who almost stole our democracy. Another song on the record, called "I Will Never Leave", is an anthemic statement of the intention to resist and, ultimately, to remain. Produced by Andy Stack, Finding You features stellar performances by Stack (guitars, bass, keyboards), Sara Milonovich (violin), Lee Falco (drums), Jeremy Baum (organ, accordion), Brandon Morrison (bass), and Adrien Reju and Melissa Ahern (vocals). 
In March, 2020, Bruce T Carroll released a powerful new song and video called "Lift Your Head Up." It was, in essence, a call to action. A call to activism. A call to acknowledge the extreme and abject conditions suffered by so many in this world and a commitment to do something about it. It is a work that represents all that Bruce has sought, through artful songcraft and powerful music, to convey to the world. As he prepares to release his fourth record in as many years (September 2021), Bruce's belief that music and social conscience derive from the same wellspring of humanity continues to drive him forward. 
SOCIALS 
WEBSITE | FACEBOOK | YOUTUBE | SPOTIFY | ITUNES