Trespass Music is pleased to release Gordon Thomas Ward's brand new album "Eiderdown" on May 1, following the release of 3 singles from thIs double album: Desiree, Four Angels, and Still Calling. The album and singles are garnering great reviews.
Gordon Thomas Ward ~ NEW JERSEY/MAINE | FOLK ROCK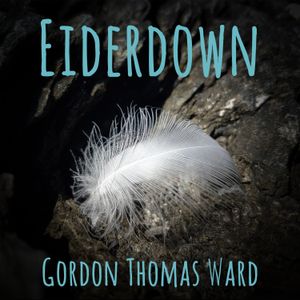 EIDERDOWN | FOLK ROCK | Release MAY 1 
DROPBOX CLICK HERE 
AIRPLAY DIRECT CLICK HERE 
ONE SHEET CLICK HERE
Volume 1 - **focus tracks 
"Thanks for sending the single "Four Angels" from Gordon Thomas Ward, powerful song."
- Bruce Swan, "Music My Mother Would Not Like" WPKN 89.5 FM 
"When you think of the phenomenal story-tellers of yesteryear like Bob Dylan, Paul Simon, or James Taylor, Gordon Thomas Ward would be in that same vein for today. This multi-dimensional artist takes listeners on a lyrical journey on his new 2-Volume set called Eiderdown. Gordon Thomas Ward is setting the gold standard for singer/songwriters for generations to come." 
~Jimmy Rae, Skope Magazine 
**1. Eiderdown, 5:56  - A stormy, rocky coastline in Maine and a mysterious ghost story – those seeds were all I needed to create the fabric of this song.
**2. Désirée, 3:58  - Most of us have had them, those relationships about which we were warned that turn out exactly as predicted. 
3. The Ballad of Joseph Martin, 5:39 - A story of a Revolutionary War hero with whom I'm bonded because of our shared geographical locations in NJ and ME, this is also a salute to all of our men and women who served or are serving in our armed forces.
4. Just for You, 4:22 - A song for all parents who are setting their children free to fly on their own in the world. 
5. Satellites, 5:00 - For those who yearn for the promise of simpler, saner times, this song is for you.
6. Piety of Thieves, 6:53 - This song was written about those people who act as if their image, stature, and wealth make them more important in the eyes of God.
**7. Four Angels, 7:00  - Compelled to honor the students who were killed during the Kent State Massacre, I chose to tell this story from the perspective of a 19-year-old National Guard soldier. 
8. Dreams, 2:50 - This song is a lullaby that can be sung by anyone to anyone else they loved. 
Volume 2  
9. The Ghost of Hugh Thompson, 4:44 - Taking a stand for what you think is right when you see injustice and wrongdoing is not always easy, but it's always correct. Hugh Thompson was an excellent example. 
10. Longing, 5:36 - Alzheimer's disease affects a significant portion of our population. This song illustrates the scenarios and challenges faced by the patients and their families. 
**11. Truth (I Will Rise), 5:37 - If Truth were a person and could comment on our country's state of affairs, I imagine this is what she might say. 
12. Long, Long, Ago, 5:54 - Having spent years involved in a project to aid residents in a rural area of eastern Kentucky, this song is a reflective compilation of some of what I've heard and seen about the decline of the coal industry. 
**13. Are You Sleeping?, 4:59 - This is a call to action for those asleep at the wheel when danger's at the door and believe there is nothing they can do to change the world.  
**14. Still Calling, 4:56 - In thinking of the loved ones we miss and can't be with us for one reason or another, this song is for them.
15. Endless Horizons, 6:05 - This song is a reflective view of childhood and a nod to the cycles of realities that lie ahead of us all.  
16. Somersetin Lullaby, 2:18 - This is a melodic love letter and nostalgic tribute and to the land where I spent my childhood in Bernardsville, NJ. 
"This double album [Eiderdown] is basically a folk record that smashes all the stereotypes you would normally bring to a folk record when approaching it uninitiated. Long on stories and personal observations, Ward approaches things almost cinematically, making these into song/movies that hold your attention in a different sort of way. Bringing folk music back to the folk, it's no wonder he has such a thriving under-the-radar career. Solid stuff."  
~ Chris Spectre, Midwest Record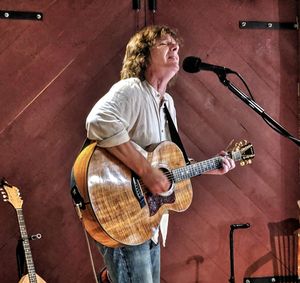 Liner Notes 
Gordon Thomas Ward: lead vocals, harmony vocals, rhythm and lead 6-string acoustic guitar, nylon string guitar, 8-string baritone acoustic guitar, 12-string acoustic guitar, rhythm and lead 8-string baritone walkabout dulcimer, Nashville/high-strung guitar, bowed psaltery, snare drum on "Four Angels," bass drum on "Long, Long Ago," wind chimes, sound effects (wind, waves, thunder, rain, and sledge hammer) 
Eric Troyer: backing vocals on "Désirée," piano, organ, synthesizer, bass, drums, string pad, bass drum, brushes, shaker, tambourine 
Caroline Cotter: co-lead vocals on "Longing," backing vocals on "Eiderdown" 
Keith Goellner: sticks, spoons 
Dan Kassel: cello 
Michael Mitsch: bodhran, percussion 
Ian Rankine: highland bagpipes 
David Rimelis: violin 
Dave Shapiro: electric lead guitar 
Produced by Eric Troyer and Gordon Thomas Ward. Recorded and mixed by Eric Troyer at Charlestown Road Studios, Hampton, NJ. Mastered by Paul Wickliffe at Skyline Productions, South Orange, NJ. 
Cover photograph by Gordon Thomas Ward. Interior and back photographs by Veronica Ward. Art design and layout by Gordon and Veronica Ward. 
Thank you! Special thanks to this project's super fans and pledgers Wayne Smith (song sponsor for "Eiderdown" and "Endless Horizons"), Al Markiewicz (song sponsor for "The Ballad of Joseph Martin"), Lynne Skaskiw (song sponsor for "Truth"), and a dear childhood friend (song sponsor for "Still Calling" and "Somersetin Lullaby") along with the other pledgers who believed in my songs and this journey. This record would not have been possible without your love, faith, and backing! 
Eric Troyer, I am forever grateful for your creativity, the trust I have in your musical instinct and knowledge in the studio, the way we have learned to work as a partnership in the production of my sound, and, most of all, our friendship. Paul Wickliffe, thank you for your keen ear and your care of this project during its mastering. Truly, this record would not be what it is without all of the talented musicians who added their flair and personalities to these songs and instilled in them a unique sense of character and depth. The list of musicians includes Eric Troyer, Caroline Cotter, Keith Goellner, Dan Kassel, Michael Mitsch, Ian Rankine, David Rimelis, and Dave Shapiro. Endless love and appreciation to Veronica for your support, feedback, and graphic layout. 
Thanks to all of my fans for listening to my music and attending my shows. I am fortunate to be able to make music while being surrounded by you all! 
All songs on the album are written by Gordon Thomas Ward. © ℗ 2020 Gordon Thomas Ward. All rights reserved. ASCAP
ABOUT GORDON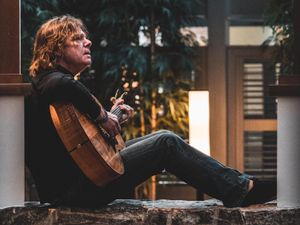 Grammy-balloted singer-songwriter, recording artist, author, and speaker GORDON THOMAS WARD is back with a new, double record titled Eiderdown that transcends the here and now to take listeners on a sonic journey through scenes of life both seen and unseen, yet passionately felt with the heart. Set in the folk rock genre, the record supports a variety of emotions and moods. Dubbed "the total package" by his fans, Gordon Thomas Ward tours as a charting solo performer. His song stylings have been influenced by the singer-songwriters of the late 1960s through the 1970s, yet they occupy a space all their own filled with honesty, emotion, and the occasional political commentary. His music has led him to work with notable musicians such as Eric Troyer and Mik Kaminski (Electric Light Orchestra, ELO II, and The Orchestra) and share the stage and billing with Natalie Merchant, Christine Lavin, and others.  
Sounds Like/Influenced By   
If one were to take bits of Neil Young, Dan Fogelberg, Joni Mitchell, and Jackson Brown and blend them together, you would have a good idea what Gordon's sound is like.  
TOUR - online at https://www.facebook.com/GordonThomasWard
**Due to the pandemic - dates are constantly changing. Please check Gordon's website regularly for updates and online concerts on his Facebook page for times.
 
Friday, May 1 @ 8:30 AM Live on WERU, Featured Artist WERU FM and online 
Wednesday, May 6 Online Concert  
Wednesday, May 13 Online Concert 
Saturday, May 16 @ 7:00 PM Lamoine Grange Fundraiser Concert Lamoine, ME 
Wednesday, May 20 Online Concert
Thursday, May 21 Private Concert Ellsworth, ME 
Friday, June 5 @ 7:00 PM Pioneer Valley Folklore Society The Nacul Center, Amherst, MA 
Saturday, June 6 @ 6:00 PM Private House Concert Delmar, NY 
Sunday, June 7 James Burk's Inn James Burk's Inn, Johnstown, NY 
Monday, June 8 @ 1:30 PM Private Event Bridgewater, NJ 
Monday, June 8 @ 7:00 PM Troubadour Tales presentation Washington Township Public Library, Long Valley, NJ 
Tuesday, June 9 @ 9:00 AM Private event at Clinton Township, NJ Clinton Township, NJ 
Tuesday, June 9 @ 7:00 PM Prallsville Mills ghost lecture Prallsville Mills, Stockton, NJ 
Thursday, June 11 @ 7:00 PM Godfrey Daniels with William J. Hall Godfrey Daniels Listening Room, Bethlehem, PA 
Friday, June 12 @ 10:30 AM Private Event Basking Ridge SC, Basking Ridge, NJ 
Saturday, June 13 Private House Concert Bernardsville, NJ
Website/Social Media/Music lInks 
Website | Facebook | Apple Music | Soundcloud | Instagram | Spotify