Trespass Music is pleased to release Karen Morand & The Bosco Boys new single "Easy" to worldwide radio on June 1, 2021. The new single is the second of 4 singles released in advance of the upcoming album "Ghost Hotel" due out January 2022.
Karen Morand & The Bosco Boys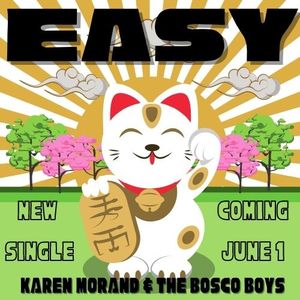 WINDSOR ON Canada | SINGLE | ALT FOLK | SOULFUL ROOTS | AMERICANA 
ADD DATE June 1, 2021 
DROPBOX CLICK HERE 
AIRPLAY DIRECT CLICK HERE 
ONE SHEET CLICK HERE 
BANDCAMP LIVE JUNE 1 CLICK HERE 
LYRIC VIDEO LIVE JUNE 1 CLICK HERE 
With driving rhythms, soaring vocals, and wailing blues harp, Easy comes bouncing in evoking memories of a perfect summer road trip. Using the Detroit River as her muse, singer-songwriter, Karen Morand explores the arc of life, overcoming, letting go, and leaving worry behind. The road ahead is unknown, but open and hopeful with the stereo turned up loud.
Award-winning singer-songwriter Karen Morand follows up her latest single release "Never Enough" and her solo release "Every Flash of Light" (2018) with the second of 4 new singles releasing in advance of her January 2022 album "Ghost Hotel." Karen is accompanied on EASY by The Bosco Boys - Aaron Verhulst and Benny Santoro, plus Brett Humber, and special guests Max Marshall, alongside award-winning bluegrass harmonica player Mike Stevens whose performances include 300 Grand Ole Opry appearances. Karen wrote her new single "Easy" as a good time driving down the road of life song! So roll down those windows, groove as you go and join Karen Morand & The Bosco Boys.
ABOUT THE SONG 
Karen Morand & The Bosco Boys - EASY (3:12) [single] 
Written by Karen Morand © 2020 – Release Date June 1, 2021 
ISRC Code – CA 91H 2000052 – SOCAN 
From the upcoming 2022 album, "Ghost Hotel"

"Now on @am800cklw - local music from Karen Morand and the Bosco Boys. You can FEEL the emotion when she sings. Soooo good! Goosebumps! New album Ghost Hotel coming soon." Dan MacDonald Hear + Now on AM800  
"Oh my.....please send more songs....!!!!! Never heard of Karen Morand before, but love what I am hearing." Hootenanny Cafe - Jon Stein, Warwick NY 
MUSICIANS
Karen Morand - lead vocals, backup vocals, and acoustic 
Aaron Verhulst - lead acoustic 
Benny Santoro - drums 
Brett Humber - percussion 
Special guests: 
Max Marshall - bass 
Mike Stevens - harmonica - Award-winning bluegrass harmonica player with more than 300 Grand Ole Opry performances
Produced by Karen Morand Recorded, mixed, and mastered by Brett Humber at Sound Foundry Studios, Kingsville, Ontario 
LYRICS
If I should die before I get old 
Before I get old and grey 
Carry me down to the river 
Let it carry me away 
If I should die before it's my time 
Before it's my time to leave   
You won't hear that ol' devil laughin'   
I got a few tricks up my sleeve 
Gather 'round and sing songs of redemption 
I know that you'll find sweet comfort there 
Bring your guitar 
Sing Jimmy, Cash and Dylan
Sages and the prophets down in the easychair 
And we'll rest easy 
And should our bed grow too cold 
Grow too cold to sleep 
Cut down our favorite kissing tree 
And light a fire under me                 
Then we'll look across at Detroit City 
Remember how the smoke rose in the night 
She rises up oh so strong and pretty 
Out of darkness, into splendid light 
And we'll rest easy
ABOUT KAREN MORAND & THE BOSCO BOYS 
Karen Morand -singer, songwriter, soulful. 
Armed with original songs and feisty, powerhouse vocals, Karen Morand delivers a soul-stirring show:  lively, alt- folk with well-worn blues and gritty gospel on the side. 
Karen radiates with energy in live performances both solo and when accompanied by her acoustic trio The Bosco Boys (Benny Santoro on cajon/drums and Aaron Verhulst on guitar, pedal steel and mandolin). A graduate from the University of Windsor's music therapy program, Karen enjoys experimenting as a multi-instrumentalist - guitar, ukulele, accordion and the banjo. As a recipient of the 2016 Canada South Songwriting Contest, Karen's songs celebrate the joys and broken parts of real life.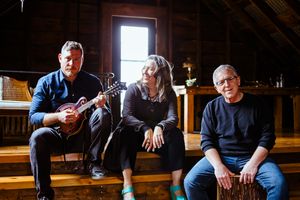 In concert, Karen performs original songs spanning her four album releases, alongside folk classics and new favourites from her songwriter friends. She appears live both as a versatile soloist and accompanied by the Bosco boys.  Since her first studio release, 'Carry On' in 2012, followed by 'I Think I'll Lose My Mind Today' in 2014, and Junkyard Heart in 2016, Karen has maintained an intense schedule of performances throughout Canada. Karen has brought her music to eclectic backdrops including inner-city churches, stages tucked deep into the Ontario forest, classrooms, living rooms, and concert halls. 
Her first solo and most recent release, "Every Flash of Light" (2018) is an EP including co-writes with Nashville songwriters Steve Hindalong (the Choir), Kelly Kessler and Linda McRae (Spirit of the West). Other collaborations include her recent pairing with internationally renowned bluesman, Manitoba Hal Brolund as bluesy gospel Americana duo, "Even the Bird Was Free." 
Highlights of Karen's musical adventures feature showcases at the Songwriters' Symposium and SWERFA, both in Austin, Texas, sold-out performances at The Bank Theatre in Leamington, appearances at the Winterfolk, Blue Skies, and Kingsville Folk Festivals, and joining the Windsor Symphony Orchestra to perform her original song as part of the Six String Nation project. 
PRESS 
"Karen Morand is absolutely brilliant. I've just heard her new single "Never Enough" live for the first time and am completely blown away." Jan Hall ~ Folk Roots Radio 

"Karen Morand & The Bosco Boys: Having heard the new single,  I'm looking forward to the new album "Ghost Hotel." This one track, just one single, wow it's "Never Enough." Jim Welsh, host Music Routes - Radio Summerhall, UK
"[Never Enough] It's a beautiful and poignant song for the times. Karen's haunting vocals are deeply expressive. She's sounding better than ever." 
Anne-Marie Brugger, Host/Producer, Hop The Fence CHUO.FM & Co-Host Canadian Spaces CKCU 

"Now on @am800cklw - local music from Karen Morand and the Bosco Boys. You can FEEL the emotion when she sings. Soooo good! Goosebumps! New album Ghost Hotel coming soon." Dan MacDonald Hear + Now on AM800 
"Oh my.....please send more songs....!!!!! Never heard of Karen Morand before, but love what I am hearing." Hootenanny Cafe - Jon Stein, Warwick NY 
"Never Enough is the kind of modern folk track that will really grab ahold of listeners and, in the words of Morand herself, "[break] their heart a little and [put] it back together". This is high-level songwriting executed with clear musicianship that allows each piece of this track to come together to form a true musical masterpiece. Karen Morand & the Bosco Boys are creating the kind of folk-rock music that this genre could use a whole lot more of – meaningful, genuine, and from the heart at every measure." The Ark of Music Full Review CLICK HERE 
Folk Roots Radio Live  Interview CLICK HERE
"I met Karen Morand at the Ontario Council of Folk Festivals in 2010 where I was a mentor. She was just beginning her career as a singer/songwriter and I was immediately impressed by her warmth and straightforward attitude. She has made great strides since then and has just released her second recording of her own material. Her songwriting belies the amount of time she's actually been writing and I believe she is on her way to becoming an artist who will be a force on the Canadian music scene." 
Linda McRae, platinum award winning musician 
"Never Enough" is a great title for Karen Morand & The Bosco Boys' first song to be released from their upcoming album. "Never Enough", musically and lyrically penetrates your soul as you listen to this song!! I can never get enough of Karen's music. This is Karen's best work yet and I can't wait to hear what is in store for us with their new album "Ghost Hotel." 
John Moran - Technical & Programming ~ The Bank Theatre 
"Songwriter Karen Morand casts power to stir the storm in your soul and part the dark clouds hovering over your heart.  Karen drives the engine through songs that clang, grind and chug with bold defiance, shaken faith and cryptic warnings; breathing steam around embraces of the wounded and outcast."  Songstress and CJAM radio host Allison Brown 
"Karen Morand – My God, you can sing!!" Les Palango, station manager ("The Hawk") 
"Karen Morand is something of a standout in the crowded field of solo singer-songwriters. Her performances and recordings both display a careful attention to craft as well as a broad range of influences. Karen's material demonstrates her comfort with a variety of styles and genres and her ability to create appealing melodies and lyrics." 
Danny Sullivan, Artistic Director, Blue Skies Music Festival 
"Windsor based singer-songwriter Karen Morand writes wonderful warm earthy songs that speak to your heart and leave you begging to spend time in her company. Equally comfortable as a solo artist with a guitar or playing with her wonderful band "Bosco", her performances are definitely not to be missed." Jan Hall, host of Folk Roots Radio 
SOCIALS 
EASY will be available on iTunes, Spotify (and 37 other platforms) - search under Karen Morand & The Bosco Boys.