Trespass Music is pleased to release to radio worldwide "Commonplaces" by Rhode Island acoustic duo Partington & Sweeney, on November 1, 2020. Partington & Sweeney have joined forces as a music duo devoted to folk and popular traditions in American music and the arts.
Partington & Sweeney | RHODE ISLAND | FOLK Releasing November 1, 2020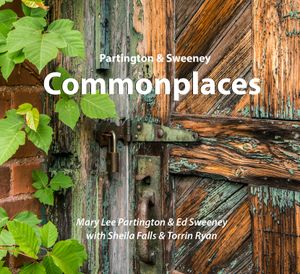 DROPBOX CLICK HERE 
AIRPLAY DIRECT CLICK HERE 
One Sheet CLICK HERE
VIDEO - THE MANCHESTER MULE SPINNER - CLICK HERE
VIDEO - TIMES ARE GETTING HARD, BOYS - CLICK HERE
ABOUT THE ALBUM
Commonplaces is inspired by the centuries-old practice of commonplacing or recording wisdom and ideas for later recollection in notebooks that bear the name "commonplaces." 
Mary Lee Partington & Ed Sweeney tell stories of immigrants, farmers, and factory workers during 19th & 20th century America, where self-educated mill girls earn their own keep, an orphan endures to tell her tale, where old ballads have taken root and where migrants go farther west. These songs and tunes stand on common ground where old ballads have taken root and where the future will send folks ever further westward into the dusty testing ground of the 1930s and beyond. 
"I just listened to this 3 times back2back this afternoon through 3 different sound sources....Such very rich sounds both instrumentally and vocally, it will instantly place you into a vibration of euphoria and keep you suspended there, your mind tracing all the words of the lyrical stories, and pondering how you feel every sense of your mind, body, and soul elevating. THIS is a must have. Dang,this is stellar indeed. Finally, some freakin real music coming out of the ashes of Summer to move the minds & spirit forward. We are so lucky. Thank you kind Sir and very finely kept company."
Josephine Elle - Heart2SoulRadio - Portland Oregon
"You can't tell the originals from the folk ballads on this lovely set that takes you places you wouldn't expect. With no dust on it, you're transported back at least a hundred years in most cases for songs about adversity, adventure and prevailing---largely something to think about today. With a classic folk feel but recorded and played with much more clarity and charm, this is sure to give you a whole new perspective on folk music as you return to it over and over. Simply smoking.." 
Chris Spectre - Midwest Record
TRACK LISTING & **FOCUS TRACKS 
**1. The Manchester Mule Spinner - 5:00 (Mary Lee Partington) recalls a young mill worker who leaves Britain's 19th-century "Cottonopolis" (another name for Manchester, UK) for a new life in the factories of New England where mechanized spinning tied a thread to the future and the fabric of the American dream. 
**2. Times Are Getting Hard, Boys - 2:50 (Public Domain) is an American folksong from the Dust Bowl Era (1930 – 1940). Severe drought and the destruction of prairie grasslands gave rise to dust storms that damaged the agriculture of the American and Canadian prairies. By the end of the Dust Bowl, over 2.5 million people abandoned their homes and farms and moved to the west coast looking for a better life. 
3. Young but Daily A Growing - 3:20 (Public Domain) is a traditional ballad tradition that crossed the Atlantic with early settlers in America. It is sparse and spare in detail, and its musical setting casts a dark shadow over a bride's ambitions. 
4. Deer Island - 6:30 (Mary Lee Partington) is an island in Boston Harbor where thousands of Famine era Irish were quarantined. Emigrants and exiles, sick and dying, perished in great numbers only to be buried beneath wooden markers that weathered away. This song anchors the tale of a young Irish immigrant who haunts the cliffs, forever seeking her lost love. 
**5. New England's Daughter - 4:29 (Mary Lee Partington) is part historic figure and part tragic character stitched from the legacy of young mill girls: the doffers, pickers, and burlers who faced or faced down foremen and factory owners among the looms and spindles. 
6. Like Bread Upon the Water - 2:45 (Mary Lee Partington) is drawn from the pages of the Blackstone River Valley autobiographical novel Three Holes In The Chimney. Singing in the first person, young Ann May reflects on harsh treatment on a Yankee farm where she is sent after the death of her mother.  
7. So Here's To You - 4:25 (Alan Bell) is by Alan Bell, beloved folk singer/songwriter from the North West of England. The friendship theme rings true in the voice of our friend Bridget Fitzgerald, a sean nós singer from County Galway, long resident near Boston, MA, with whom we first sang the song. Bell was inspired by commonplaces of his region where a parting glass is shared, friendships are long, and absence is short.
LINER NOTES 
Commonplaces features Mary Lee Partington on Vocals, Ed Sweeney on 6 String Guitar and 5 String Banjo.  
Guest Artists: Sheila Falls on Fiddle and Torrin Ryan on Uilleann Pipes, Flute, Whistle.  
Produced by Ed Sweeney    
Recorded, Mixed & Mastered by David Correia  www.celebrationsound.com    
Cover Photo by Cindy Wilson  www.cindywilsonphoto.com    
Artist Photos by Maryellen Malloy    www.maryellenmalloy.com    
Graphic Design by Sandy Kenney    
*The Manchester Mule Spinner, Deer Island, New England's Daughter, Like Bread Upon The Water written by Mary Lee Partington - ML Partington Publishing        
*Young but Daily A Growing (Public Domain)
*So Here's To You - by Alan Bell
Commonplaces - Circle C & Circle P (Copyright & Published) Ed Sweeney Music 2020
ABOUT Partington & Sweeney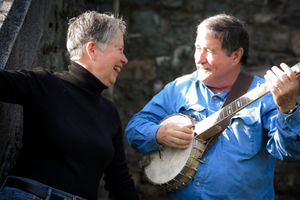 Mary Lee Partington is an award-winning New England-based singer, writer, and event-maker. Mary Lee was the voice, songwriter, and tunesmith for the internationally acclaimed New England-based group Pendragon for more than 25 years. In addition, Mary Lee's award-winning music was featured in the National Park Service series Along the Blackstone. She performs as part of American folk music duo Partington & Sweeney or in ensemble with All-Ireland fiddler Sheila Falls & All-Ireland piper Torrin Ryan.
Ed Sweeney is a solo musician who performs nationally and internationally. Ed Sweeney honors people and their history by presenting music that entertains as well as educates. He uses his musical expertise, breadth of knowledge, and wonderful sense of humor to help listeners come to understand the motivations, stories, and culture that have made us what we are today. His eclectic interests (traditional, blues, old-timey, ragtime, Christmas, Beatles…) are represented in his performances and recordings. What Lies Ahead, his previous recording with Pipa master Yang Wei and other members of Yo-Yo Ma's Silk Road Ensemble, represents a musical collaboration where Eastern and Western traditions meet.
Ed's music has been heard on television soundtracks, Ken Burns' Not For Ourselves Alone, and even as background music in Disneyland Paris. Ed's recordings, which have earned top reviews, have been featured on NPR and other radio networks.
Discography 
Ed Sweeney - What Lies Ahead - Release Date: 2015 - Label: Self
Ed Sweeney - Passing Through - Release Date: 2014 - Label: self 
Ed Sweeney - Inside Fezziwig's - A Dickens Christmas  - Release Date: 1998 - Label: Kicking Mule Records
Ed Sweeney - American Sampler - Release Date: 1991 - Label: North Star Records

Pendragon - Beyond Borders.....A Celtic Journey - Release Date: 1998 - Label: Self
SOCIALS
WEBSITES : Mary Lee Partington - Ed Sweeney  | FACEBOOK: Partington & Sweeney