Trespass Music is pleased to release Philip Scott Poli's new album "One Sky" to worldwide radio on October 1. This is Philip's first solo recording, however, he is no stranger to the music scene and has been named finalist in the Great Lakes Songwriting Competition.
Philip Scott Poli 
ONE SKY |  RELEASE DATE | OCTOBER 1, 2020
WINDSOR ONT CANADA | FOLK 
Releasing October 1, 2020 
DROPBOX CLICK HERE 
AIRPLAY DIRECT CLICK HERE 
ONE SHEET CLICK HERE
Windsor Ontario native, country-folk singer-songwriter Philip Scott Poli presents his first solo album "One Sky", a diverse and compelling collection of songs from a decade's deep repertoire to be released October 1, 2020. Recorded during months of COVID-19 isolation "One Sky" is a truly international effort with musician friends from multiple countries adding captivating performances to a suite of emotionally honest songs exploring themes of love, loss, connection, and hope. 
All songs written by Philip Scott Poli, except "I'm Right Here" co-written with Glen MacNeil.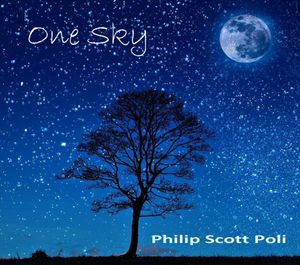 TRACKLISTING - Focus Tracks **
**1. One Sky (3:05) I wrote this song the week John Prine passed which also happened to be "Holy Week" leading up to the Christian holiday of Easter. Most of the world was deep in lockdown due to the Covid19 pandemic. It just seemed so sad that people couldn't get together to celebrate John or their faith. I needed this song to remind myself that one day we will be able to embrace one another again and laugh, cry, and rise above the tumult by being together. A much-needed song of hope reminding us that beyond Covid19 isolation we will one day embrace one another again and laugh, cry and rise above the tumult by being together. 
2. Already Want You (3:40) There is a great little cafe about a 7 iron from my back door in the Olde Walkerville neighbourhood in Windsor Ontario. The Taloola Cafe is a great place to write, read, and just hang out and people watch. It's the kind of place where on a rainy fall day folks set up to stay a while. There are so many narratives that arise from daydreaming and people watching and if you're a Taloola patron, chances are there is a little bit of you in this song. Caroline King's accordion deftly conjures the charm of a Parisian Cafe in this daydreamy ode to people watching and love at first sight.
3. Give Me Away (3:35) (Based on the poem Epitaph By Merrit Malloy) This song puts to music the beautiful sentiments expressed in the Merrit Malloy poem "Epitaph." I wrote it after the passing of my Aunt Wally (pronounced Vah-Lee) whom I would visit yearly during the Celtic Connections music festival in Glasgow Scotland. She was the last of my parent's generation and the milestone of her passing brought about the reality that my generation is next. All we can do is keep loving as we have been loved and passing it on. A powerful melody lovingly expressing the sentiments noted in Merrit Malloy's poem "Epitaph" that beyond grieving we are left with love to give back to the world.
4. Where Do All The Hit Songs Go (3:49) When I was a little kid my parents took my grandparents and us kids to see a traveling show of old music stars at a Canadian Legion.  Some original members of the Ink Spots, Mills Brothers, Platters. etc. I remember clearly how my grandmother Elizabeth wept as the sang "The Gypsy." I'm sure now that it's the moment songwriting was born in me. Songs are the connective tissue that tethers us to sacred people and places in our past. The bridge in this song is all song titles of those types of iconic songs. "Blue Eyes Cry'in In The Rain",  "Staying Alive",  "As Time Goes By." This is a love song to songs I suppose. A true "Willie Nelsonesque" country ballad with a moving narrative conveying how songs dwell in the soul where they are the keepers of our emotions and memories.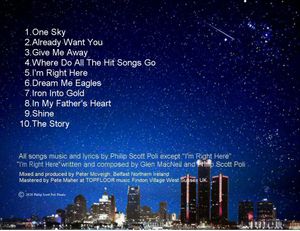 **5. I'm Right Here (4:13) Words and music by Philip Scott Poli and Glen MacNeil. My only daughter Elizabeth was getting married and asked for a song as a wedding gift. No pressure right?  I was fooling around with various approaches when my trusted co-writer Glen MacNeil offered an idea that to me clearly conveyed the essence of a father's love. "I'm right here and I'm not going anywhere." I build around that concept following the arc of a parent's love from those first moments in the delivery room through to their own marriages and beyond. Noted Nashville strings master Mark Evitts beautifully illuminates this lovingly constructed ode to the unwavering nature of a father's love. Written as a father-daughter wedding gift.
6. Dream Me Eagles (2:57) There are certain unexplainable connections that people share that is hard to articulate. Sometimes people are not able to communicate and yet stay connected via thoughts and vibes that are precious and tangible. This song chronicles my experience of this with a friend who had taken off to the wilderness to heal. This is by far my most esoteric writing and you won't likely see "dewdrop" used as a verb again.  Lovers magically commune in the ether while separated in this ballad. It's traditional Carter family style mountain music folk with a supernatural twist. Where else would you hear "dewdrop" used as a verb?
7. Iron Into Gold (3:56) Ah, the transformative power of love. This is one of my older songs that speaks to a time when I was in new love with a woman who had a pretty well-established Wicken spirituality. I learned so much from her and grew into a much more complete and kind human. I look back and consider it quite a supernatural accomplishment that she turned iron into gold. A generous helping of trem style mandolin over piano acts as a sturdy foundation for this ballad recollecting and bearing witness to the metamorphic power of wicken love. 
**8. In My Father's Heart (3:35) As a young man, my dad endured many traumas. He served seven years in the British armed forces during WWII, lost his only brother to appendicitis peritonitis, and lost his father who was taken prisoner by Britain for being Italian and drowned at sea on a torpedoed prison ship. It would have been understandable if he were depressed, bitter, or had an edge. But he was a humorous gentle soul and I'm grateful. This is just simply a love song to my dad because he was a great dad. Dale Rivard's lap steel and Johnny McCullough's piano duel beautifully throughout this loving tribute to a father's love and a son's wish to be as steadfast and true for his daughter.
9. Shine (3:35) I wrote this song as a gift for a friend on her 45th birthday. Her nest was emptying and she was going back to school, starting a business, and just generally reinventing herself after being a full-time mom for many years. It's not an uncommon story. It's a celebration of the intrepid spirit and strength of women who reinvent and reimagine themselves in mid-life. Audaciously trying to understand the anguish a woman feels as her nest empties, this one cheers on a reframing of the ordeal and moving past sorrow toward renewal.
10. The Story (4:22) Two years ago my brother who I grew up shoulder to shoulder with came down with flesh-eating disease. He was saved by emergency surgery but for one long night, his life hung in the balance. It was such a surreal experience sitting in the ICU watching all these machines keep him alive and not knowing if there was a tomorrow for him. He hasn't taken the best care of himself over the years and that was a contributing factor to the precariousness of the situation. It's a pretty helpless feeling when you watch someone you love struggle with their demons. You want to change the story but it's not yours to tell. McCullough's piano haunts in this dirge expressing the helplessness felt by a loved one bearing witness to one's struggles with their demons and wishing for the power to change the story. 
CREDITS
Words and music by Philip Scott Poli EXCEPT Track #5 "I'm Right Here" co-written with Glen MacNeil     Tecumseh Ontario Canada      c 2020 
Produced by  Peter McVeigh  - Belfast Northern Ireland 
Mastered by  Peter Maher  - West Sussex England  UK 
Recorded at  Gladstone loft Home Studio  - Windsor Ontario Canada 
Mixed by Peter McVeigh  - Belfast Northern Ireland 
Contributing musical tracks recorded remotely on location 
Dale Rivard  -Pedal Steel & Dobro - Tilbury Ontario Canada 
Caroline King - Accordion - Cleveland Ohio USA 
Keith MacNeil -Mandolin  - Cape Breton Island Canada 
Johnny Mccullough -Piano  - Belfast Northern Ireland 
Breagh MacNeil  -Harmonies  - Tecumseh Ontario Canada 
Mark Evitts -Strings - Nashville Tennessee USA 
Stephen Maginnis -Drums - Belfast Northern Ireland
ABOUT PHILIP SCOTT POLI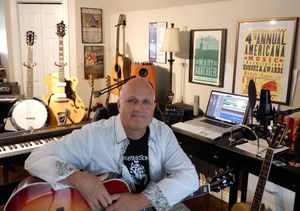 Country folk singer-songwriter Philip Scott Poli's first solo album "One Sky", a diverse and compelling collection of songs comes from a decade's worth of treasured memories. "One Sky" is set to be released on October 1, 2020 to radio worldwide by Trespass Music. Recorded during months of COVID-19 isolation "One Sky" is truly an international effort with musicians from multiple countries adding captivating performances to a suite of emotionally honest songs exploring themes of love, loss, connection and the ultimate gift of hope. 
Whether looking forward to coming out of COVID-19 lockdown, daydreaming at a favoured cafe, memorializing an aunt, remembering a Grandmother's tears or writing that special song for your daughter's wedding, Poli's lyrics on "One Sky" pull the heartstrings. Even if you dreamt it, got up, wrote it and went back to bed, thought she could and still believe she will, wrote in loving memory of your father, a 40th gift for a friend facing new beginnings or watched life support machines keep your brother alive, the pen and the emotions flowing so effortlessly has brought Philip Scott Poli full circle with "One Sky." 
"Chops! Philip Scott Poli has both real deal songwriting and musicianship chops. Audiences love him and embrace the emotion he lays into the lyrics and his stage presence. "One Sky" should be on your list of CDs to purchase and listen to on the radio this year!" John Moran - Chair Programming - The Bank Theatre, Leamington ON
Although "One Sky" is Windsor award-winning singer-songwriter Philip Scott Poli's first solo album, he is no stranger to the music and songwriting scenes throughout Canada and the US. Writing songs since his teens, Philip is a veteran of the Toronto area music scene where he performed as a tenor vocalist with Toronto band "The Fabulous Haircuts" for ten years.  Philip has performed at multiple venues in Detroit, across Southwestern Ontario, and the Windsor-Essex County Ontario local music scene including The Bank Theatre and Windsor Folk.  
He is a member of NSAI (Nashville Songwriters Association International) Detroit chapter, as well as a member and graduate of SAC (Songwriters Association of Canada) developmental programs. Philip holds a Songwriting Specialist certificate from Berklee College of Music.  
Poli's songwriting chops have earned recognition as finalist for "Radio Flyer" in the 2010 Great Lakes Songwriting Contest. In 2012, the "Reflections of 1812" cd compilation, a suite of songs recorded to mark the bicentennial of the war of 1812, saw Philip's song "Dance Queen Charlotte included in the compilation album which was sponsored by Heritage Canada. 
Philip's love of songwriting has put him in touch with some of the best session players, writers, and musicians throughout the world and he has co-written with Cape Breton's Glen MacNeil. Philip's songwriting often tells the stories of life living in the Windsor/Detroit motor cities, and his songs and live performances are delivered in an easygoing and compelling way that audiences continue to embrace.
WEBSITE & SOCIAL MEDIA
WEBSITE | AIRPLAY DIRECT | FACEBOOK | TWITTER | INSTAGRAM | ITUNES | CDBABY | SPOTIFY