Trespass Music is pleased to release Aaron Nathans & Michael G. Ronstadt's new album "Shadow of the Cyclone" on October 1. This is Nathans & Ronstadt's third release following their critically acclaimed CDs "Hang on for the Ride" and "Crooked Fiddle."
Aaron Nathans & Michael G. Ronstadt | Pennsylvania/Ohio | Folk | Americana | Singer-Songwriter
Shadow of the Cyclone | Release Date OCTOBER 1, 2020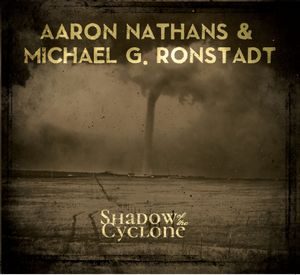 DROPBOX - CLICK HERE  
AIRPLAY DIRECT - CLICK HERE 
ONE SHEET - CLICK HERE
NATHANS & RONSTADT'S DARK NEW ALBUM CAPTURES LIFE IN THE "SHADOW OF THE CYCLONE" 
October 1, 2020 — What metaphor for the past year serves better than standing in the shadow of an approaching cyclone? 
Cello-based songwriters are rare, and the alt-folk duo of Aaron Nathans & Michael G. Ronstadt take advantage of Ronstadt's adventurous and wildly creative technique to face our shared disaster, head-on. 
Philadelphia based guitarist /songwriter Aaron Nathans and Cincinnati cellist / songwriter Michael G. Ronstadt present their third album, the rich, dark, and foreboding Shadow of the Cyclone, released October 1. With sobering clarity, the duo weave intricate metaphors in the form of fallen saviors ("Strongman"), a Leonard Cohen-esque embrace of the anti-hero ("I Go Low"), and straightforward accounts of our loss of empathy ("Sinner's Bible"). These songs hint at a sense of just retribution for the troubles we've brought upon ourselves, while "Haunted House" and "Come on Sun" coax a sense of levity and hope while accepting our brutal present. 
"Almost Goth/folk, this acoustic duo with no fear of the darkness serves up a set that you'll never mistake for mush mouth sentiment. Dazzlingly different, this is the proof you can be dark without being depressing and bumming everyone out. A solidly different path for folkies to follow as they head out from the back porch." Chris Spectre - Midwest Record
Track Listing - **FOCUS TRACKS
**1. Ghost Writer (4:42) - A dark ballad by Aaron, about what happens when a famous, reclusive author living in a small New England town decides to stop writing. 
**2. Strongman (4:15) - In a world where hope is scarce, a gaggle of old-time barbell men gather by the Coney Island boardwalk to call upon the spirit of their departed mentor. This song, a cowrite by Aaron and Michael, showcases Michael's musical versatility, ranging in tone between dark and jaunty. 
3. Haunted House (4:34) - Perfect for Halloween. An upbeat, fun twelve-bar blues ghost story by Aaron, about learning to live with uncertainty, and the spirits around us. 
4. My Only Leap (5:24) - A jammy blues cello song by Michael, which reflects on taking chances in life, and managing the complications that inevitably follow. 
5. I Go Low (4:31) - In the spirit of Leonard Cohen, Aaron sings about embracing the anti-hero in all of us, and imagining the visceral satisfaction of taking the low road, no matter the consequences. 
**6. Englishman in New York (4:29) - A cello-centered reimagining of Sting's famous song about keeping your composure and dignity in the face of an angry world. 
7. Phantasmagoria (4:05) - Pronounced fan-taz-muh-GORE-ee-uh. A rootsy, driving, acoustic minor-key Americana-style instrumental. The title means dream or hallucination, a reference to the times we are living in. 
8, Just One Minute (3:17) - Michael's humorous electronica-cello ode to the frustration of having to wait. In this case, the narrator is being rushed out of an airport cell lot after waiting there a bit too long. 
9. Sinner's Bible (3:54) - Aaron's dark meditation on our collective loss of empathy and the sacrifices we make to guard the ones we love the most. 
10. Come On Sun (4:01) - A cello-folk-power ballad about trying to pull a loved one out of a funk. Written by Michael Ronstadt and Serenity Fisher, and sung by Michael. VIDEO - CLICK HERE
**11. Carry A Tune (2:51) - Aaron's upbeat waltz about being in awe of someone's bright spirit, from a distance. It's a hint of hope to end Aaron's & Michael's album of songs documenting the challenges of life in the modern world. VIDEO - CLICK HERE #1 (tie) NACC Folk Adds - Sept 15, 2020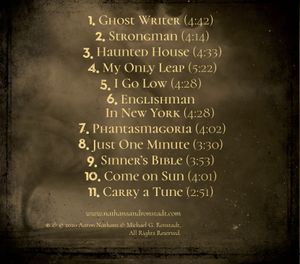 LINER NOTES
"Shadow of the Cyclone," an album by Aaron Nathans & Michael G. Ronstadt. 
Produced by Aaron Nathans & Michael G. Ronstadt, in association with Gregory Hugh Brady. 
"Ghost Writer," "Haunted House," "I Go Low," "Sinner's Bible," and "Carry a Tune" written by Aaron Nathans, Hardy Lily Music, ASCAP.
"My Only Leap" and "Just One Minute" by Michael G. Ronstadt, MGR Publishings, ASCAP.
"Strongman" and "Phantasmagoria" by Aaron & Michael.
"Come on Sun" by Michael G. Ronstadt & Serenity Fisher, Serenitree Music, BMI.
"Englishman In New York," by Sting, EMI Blackwood Music Inc./Magnetic Publishing Ltd. (BMI). 
Michael G. Ronstadt - Cello (1-11), vocals (2-6, 8-11), acoustic guitar (1,5,7), 12-string guitar (7), electric guitar (1,3,8), bass (2,3,8,10), mandolin (1,5-6), piano (4,11) , organ (1,4,8), accordion (5), soprano cat (3), Native American flute (10), sound effects (3,6), piano bench (2,6), cajon (7,9), toms (11), kick drum (3,8), cymbals (4,11) cowbell (4), brushes (3,4,7), snare drum (3), gated snare (8), claps (2,4), shaker (1,5,10-11), tambourine (7), glass bottle (7) 
Aaron Nathans - Acoustic guitar (1-11), vocals (1-3, 5-6, 8-11), electric guitar (4), electric guitar solo (10), cowbell (6), glass bottle (6), sound effects (3,6), glockenspiel (7), piano (4) 
Serenity Fisher - Piano (2), featured and backing vocals (3)  
Stan Ginn - Drums (1,2,10), cajon (4), snare roll (2), tap shoes (2) 
Phil Henry - Backing vocals, tenor banjo, glockenspiel, rhodes, wire brushes (9) 
Gregory Hugh Brady - Shaker (10)  
Ciara Grace - Backing vocals (11) 
Engineered and mixed by Gregory Hugh Brady at Studio 1311, Chester Heights, PA.
Vocals produced and engineered by Glenn Barratt at Morningstar Studios, East Norriton, PA.
Mastered by David Glasser/Airshow Mastering.
Graphic design by Scott Wolfson, OriginalBrain Media.
Photography by Jeff Burkle.  
Thank you: Larry Ahearn, Michelle Fortier, Serenity, Kelsey Trusty, Scott W., Glenn, Lizanne Knott, Cheryl Kagan, Ernie Tokay, Liz Hind, Mark Fiske & Co., Nick Donnoli, Meghan Cary, Don Armstrong, and all our Kickstarter backers. Special thanks to Bob Coren, Craig Poynter, Dave & Ann Prugh, and Jim Wurster. Greg, thanks for all your kindness and craftsmanship. 
Aaron would like to thank Avi Wisnia, Nancy Rost, Johnathan McCullough, Laura Mann, Sue Forte, and all our friends in the Philly Songwriters Circle. Love to C&L, Mom & Dad, Jenny & Jon, the Neffs, my grandparents, and the family. All my love to Debra. Special thanks to Phil Henry, for everything.  
Michael would like to thank all the amazing people in his life who have been family, friends, and all-around amazing support throughout his music journey on this earth.
ABOUT NATHANS & RONSTADT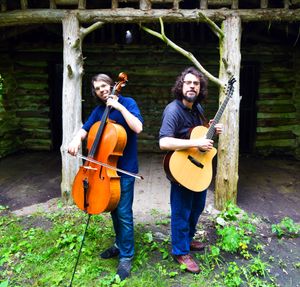 As an acoustic duo, the two create a compelling musical palate. Ronstadt's cello lines are reminiscent of the live-layered magic of Zoe Keating, and his songwriting reflects the creative diversity of Paul Simon. He weaves intricate patterns around Nathans' baritone voice, studied folk meters and dash of irony in the tradition of David Wilcox and Dar Williams. As multi-instrumentalists the two play a total of 33 distinct instruments between them while Serenity Fisher guests on piano and vocals, Stan Ginn on drums, Phil Henry on backing vocals and percussion and Ciara Grace on backing vocals. 
Michael G. Ronstadt, nephew of Queen of Rock Linda Ronstadt and a member of a family with a rich musical heritage, holds a master's degree in cello performance from the University of Cincinnati College-Conservatory of Music. Aaron Nathans is an award-winning songwriter and a leader in Philadelphia's community of songwriters. 
Shadow of the Cyclone brings in fans of folk, Americana, and singer-songwriters who are seeking refuge from the storm that 2020 has unleashed on us. 
WEBSITE/SOCIALS 
WEBSITE | FACEBOOK | NATHANS TWITTER | RONSTADT TWITTER |
NATHANS INSTAGRAM | RONSTADT INSTAGRAM | SPOTIFY | APPLE MUSIC | SOUNDCLOUD
"We think Aaron's journalistic storytelling skills paired with Michael's unique instrumental (and songwriting) chops will continue to spin gold for as long as they choose to work together — a lengthy time, we hope!"  Richard Cuccaro -Acoustic Live in NYC